BY LINDA BENTLEY | DECEMBER 31, 2013
Rural/Metro agrees to settle false claims allegations for $2.8 million
'The company expects to formally emerge from Chapter 11 within the next couple of weeks'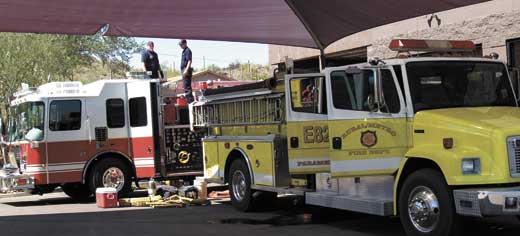 Rural/Metro Corporation expects to emerge from Chapter 11 bankruptcy within the next couple of weeks with its financial indebtedness reduced by approximately 50 percent and with $135 million in new capital to support planned investments.

SCOTTSDALE – Last week, Rural/Metro, a Delaware corporation headquartered in Scottsdale, which through its subsidiaries and affiliates, provides private ambulance and fire protection services in Arizona and nearly 700 communities in 20 states, agreed to pay the federal government $2,802,112 to resolve civil whistleblower allegations that various Rural/Metro ambulance companies violated the federal False Claims Act.

The allegations were based upon the ambulance companies submitting false Medicare claims to the government for emergency medical transportation services that were not emergencies in order to bill at a higher rate.

U.S. Attorney John S. Leonardo, for the District of Arizona, stated, "The need to protect federal funds, including the Medicare trust fund, from fraud, waste and abuse has never been greater. The U.S. Attorney's Office will continue to use the False claims Act to pursue entities and individuals who improperly profit from federal dollars at the expense of the public. This settlement agreement is a substantial recovery for taxpayers and sends a clear message that the federal government will not stand idly by when programs lose money due to false claims for payment."

The settlement agreement resolves allegations that from January 2007 through December 2011, various ambulance companies owned and operated by Rural/Metro – including SW General, dba Southwest Ambulance; Southwest Ambulance of Casa Grande Inc., dba SWARA; and Southwest Ambulance of Tucson Inc., dba Kords Ambulance – billed Medicare for transporting patients from one hospital to another on an emergency basis when, in fact, the calls were not emergencies.

The United States alleged because of these false and "upcoded" claims, Medicare paid substantially more than warranted for ambulance services.

While the settlement is not an admission of liability or wrongdoing by Rural/Metro, it is also not a concession by the federal government that its claims are not well founded.

Rural/Metro stated it is pleased to resolve its legal liabilities and is committed to ensuring that it remains in strict compliance with all applicable laws, regulations and standards in each of the markets and jurisdictions in which it operates.

On Dec. 17, the U.S. Bankruptcy Court for the District of Delaware confirmed Rural/Metro Corporation's Plan of Reorganization, which will reduce its financial indebtedness by approximately 50 percent, while $135 million in new capital will support $40 million in new investments.

Rural/Metro filed for Chapter 11 bankruptcy protection on Aug. 4, 2013 after missing an interest payment on its debt.

The company expects to formally emerge from Chapter 11 within the next couple of weeks.
Meanwhile, the U.S. Attorney's Office encourages individuals with information regarding fraud, waste or abuse related to Medicare or other federal programs to file a complaint with the U.S. Attorney's Office through its website: http://www.justice.gov/usao/az/ or by calling 602-514-7500.