DECEMBER 31, 2013
Obituaries
In Memoriam: Tammy Morrison
Alice Van Dyk
Barbara Ann Walsh


In Memoriam: Tammy Morrison
A celebration of Tammy's life will be held at 4 p.m. on Tuesday, Jan. 7, 2014 at Harold's Cave Creek Corral in Cave Creek, Ariz. Our sincere apologies to Tammy's friends and family for publishing incorrect information in the December 18 issue.
Alice Van Dyk
Dedicated wife, loving mother and grandmother, Alice Van Dyk went to be with our Lord and Savior on December 23, 2013 at age 87. She was a wonderful example of faith, hope and love!
Alice was born May 24, 1926, in the northern part of the Netherlands and moved to the United States after marrying Martin Van Dyk in February 1949.

Alice and Martin began their lives in New Jersey where all their five sons (Gary, Rudy, John, Clarence and Richard) were born before moving to Cave Creek, Ariz. Alice loved to sing and as member of the Desert Hills Presbyterian Church, served God in the choir for many years. Her sewing skills provided her an opportunity to not only provide seamstress services to the community but also assist with making cold pack scarves that were sent to our U.S. troops in Iraq to keep them cool.

Alice is survived by her wonderful husband of 64 years, Martin Van Dyk, sister Anna Van Dijk, brother Klaus Van Dijk, sons Gary (Marilyn), Rudy (Leslie), John (Jeanne), Clarence (Debbie), Richard (Julie) and grandchildren: Alisa, Eric, Ryan, Robert, Meghan, Jarod, Steven, Colleen and Danny.

The funeral and burial are to take place at the Phoenix Memorial Park and Mortuary at 200 W. Beardsley Road, Phoenix at 2 p.m. on January 10 with a memorial at the Desert Hills Presbyterian church at 10 a.m. on January 11.

An online memorial has been created at www.forevermissed.com/alice-van-dyk/#about to share the incredible love and memories of our beloved Alice. She will be forever missed.
Barbara Ann Walsh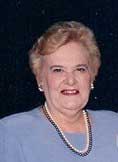 Barbara Ann Walsh of Scottsdale, Ariz. went home to be with the Lord on December 12, 2013 at Sunrise Senior Living of Scottsdale.

Barbara was born in Chicago, Illinois on June 30, 1929. She grew up in the Chicago area where she was surrounded by many aunts, uncles and cousins. She was a graduate of Austin High School and Wright Junior College, Chicago, Illinois. During her high school years she was an active member of the International Order of Job's Daughters.

Barbara married her husband Richard on April 21, 1951. Throughout their married life they lived in San Antonio, Texas, Schaumburg, Ill., Elmhurst, Ill., Stroudsburg, Pa., Silver Spring, Md., Cave Creek, Ariz. and finally Scottsdale, Ariz.

She enjoyed playing a spirited game of bridge with her girlfriends, reading books, watching movies and working on crossword puzzles – in pen no less. She was a lover of history, and a member of the Colonial Williamsburg Foundation. She and Dick spent many happy hours walking the streets of Williamsburg. The Christmas season was Barbara's favorite time of year and she even planned a family Christmas Celebration at Williamsburg.

While living in Stroudsburg, Pa., Barbara worked for the Children's Bureau of Monroe County. During their time in the Washington, DC area Barbara worked as an Assistant Property Manager at Legum & Norman, Inc. until her retirement to Cave Creek, Ariz.

Barbara was preceded in death by her husband Richard just five short months ago, her parents, Gust Arthur and Gertrude Freevol, and her sister Marion J. Schneider. She is survived by her three daughters, Barbara (Gregory) Watkins of Scottsdale, Ariz., JoNell (Scott) Doyle of Centreville, Va., and Marcia Walsh of Rockville, Md.; her grandchildren, Abigail (Nicholas) Skwiat of Richland, Mich., Sean and Brynn Doyle of Centreville, Va., and great-granddaughter, Eleanore Skwiat.

Barbara was a member of Christ Anglican Church in Carefree, Ariz. and The Church of the Ascension and Saint Agnes in Washington, DC. A Requiem Mass was be celebrated at Christ Anglican Church, 35500 N. Cave Creek Rd., Carefree, Ariz. on Thursday, Dec. 19. Friends may make a donation in her memory to the American Lung Association or the Colonial Williamsburg Foundation.