My View
BY DON SORCHYCH | DECEMBER 31, 2013

• Upcoming elections
• Cahava Springs subdivision
• Lawsuits
Happy New Year!

If all goes well there will be an election in May or August to unwind the lynching of our town manager and the return of independent thinkers rather than a slate driven council and mayor.

I got this Plato quote from Arch McGill; it is pertinent to Cave Creek's looming dilemma:
"If you do not take an interest in the affairs of your government, then you are doomed to live under the rule of fools." – Plato

So we are asking the voting public to examine the candidates and make decisions which will benefit the town. Although their local readership is low, the Arizona Republic is against recalls and can't be trusted to encourage a voter turn out in Cave Creek. Furthermore, their reporter, Phil Haldiman has lunch with Interim Town Manager Rodney Glassman with Glassman footing the bill, which means taxpayers are paying for such lunches while Sonoran News is limited by public records. Haldiman has been on the side of the slate and Adam Trenk.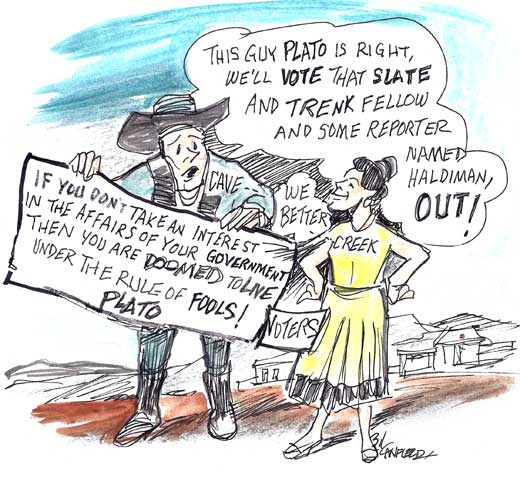 It will be an expensive lesson when the court proceedings finish, both to defend against Usama's Abujbarah's claims and to pay his court ordered award. The wide and deep investigations of the slate's communications with each other should be devastating to their chances to stay in office. Although they have five days to resign I doubt their handlers will allow them to.

The sheer chicanery of an ASU professor to start a PAC against Ernie Bunch and Thomas McGuire is expected of a libtard. V. Kerry Smith is his name and while he doesn't seem to be popular with his students, as a taxpayer, I resent that he is knocking down $246,000 each year (that is as of 2008, we haven't yet received his current salary). Much of that inflated salary is our tax dollars.

Students ranked Smith's ability as a teacher and on a scale of 0 to 5, Smith garnered 1.8 for overall quality, 1.6 for helpfulness, 2.0 for clarity and 1.2 for easiness. And we are paying at least $246,000 for lousy teaching? There were five students who provided their opinion of Smith:

On March 4, 2010 one wrote, "He is a funny guy and without a doubt very intelligent, but I don't like his teaching method. It is hard to understand what he wants, and I feel like I have not learned much; he is very confusing. Classmates agree that this is possibly the worst class you may ever take."

On March 5, 2013 another wrote, "Very funny guy and super smart, but a horrible teacher. He once told the class that teaching is the least important thing he does. And it shows."

On March 6, 2013 yet another wrote, "He is an experienced professor in his field, but he can't teach."

On May 20, 2013 another student stated, "He has a good personality and he cares. But he is one of the worst teachers I've ever had. Also, the material is very tough. And he makes it ten times harder."

On Dec. 23, 2013 another wrote, "He is an incredibly smart guy, and from what he told the class has had quite the career. He makes material challenging, but doable if you are willing to truly pay attention and come to class. Not the greatest teacher, but he cares about the subject and is pretty funny. If you're interested in the subject this class will be rewarding an (sic) manageable."

Four out of five students gave Smith exceedingly low marks. You have to wonder whether management at ASU reads these comments and does something about his lack of ability to teach, in a teaching institution. The comments seem to support his transfer to comedy, or improv, not economics.

It will be interesting to see how he conducts his PAC. But it is clear he is like the Trenkster in attitude. Trenkster, probably illegally, fired the best town manager the town ever had. Smith is going after Ernie Bunch and Thomas McGuire vindictively since they have been high performance council members. Note he didn't go after Mayor Vincent Francia since he is one of them.
Cahava Springs development
I saw some men tagging vegetation on the private road I share with one other family and talked to Mark Stapp who manages the Cahava Springs properties. The .6 mile easement I travel on is mostly on Cahava Springs property. It is pleasing that the subdivision he plans on the property to the south of me is progressing. He has tried to assemble neighbors to give them a truthful discussion of what the sub division will be. For one thing, I hope he will dispel the nasty rumor floated by at least one Morning Star Road citizen threatening there will be, "an avalanche of automobiles from Anthem surging across Cave Creek." It simply can't happen and vehicular traffic is blocked from the west.
Lawsuits
Also I am delighted that the appeals court has ruled in my favor in a suit brought by Gerald Freeman. In that case he tried to essentially take away an ingress/egress easement across my property for his sole use. Much has been made by slate supporters that I gifted the property under my easement to Cave Creek and because it was in the court the Cave Creek council voted 4-3 to give it back. I said at the time, it won't be available for free again. I won in the lower court and was awarded attorney fees and also will be awarded attorney fees for the appeals victory. Had the council kept it they would now own the property at no cost from me and the award of attorney fees means there would have been no cost to them.

The temporary restraining order brought by Freeman against the horse trail that would connect across Cave Creek will be in mediation this January and if that fails the case will be heard in February. A few prayers for our horse friendly citizens and the town code would be appreciated.