DECEMBER 31, 2013
Cave Creek Museum to host "Antique Appraisal Day" and "Architecture in Arizona" in January
CAVE CREEK – Cave Creek Museum is gearing up for an exciting New Year! Located at 6140 Skyline Dr., Cave Creek Museum features an extensive collection of prehistoric and historic artifacts that describe the lives of Native Americans, miners, ranchers and pioneers. The museum hours are Wed., Thurs., Sat. and Sun. from 1 p.m. to 4:30 p.m., and Fri. from 10 a.m. to 4:30 p.m.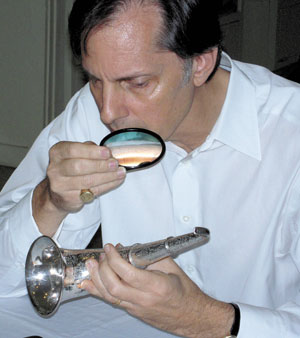 Coming in January:
"Antique Appraisal Day" 9:30 a.m. – 4:30 p.m. on Saturday, Jan. 18
Appraiser Sean Morton will examine your treasures, discuss their origins, and assess their value. Mr. Morton is a member of the Antiques Appraisal Association of America and has more than 20 years experience in the fine arts and antiques field.

Fee: $20 per item – limit of two items per person per session. You may attend more than one session.

New this year: Cathy and Bob Gallagher will offer high speed scanning of photos and documents (up to 400 photos per hour). Cost is 20 cents per photo scanned to a free DVD/case. A portion of proceeds will benefit the Museum.

"Architecture in Arizona" 1:30 – 3:30 p.m. on Saturday, Jan. 25
Learn about architecture in Arizona through the Museum's special exhibit on Paolo Soleri and the Hohokam house in the Archaeology Wing. Michael Johnson will be on hand to discuss Soleri's designs including the futuristic Arcosanti. Members of the Desert Foothills Archaeology Society will also be at the Museum. Try your hand at designing a home of the future. All ages are welcome, although students middle school and up will enjoy the day best. FREE - registration is requested.

Space is limited. Call 480-488-2764. Special thanks to the Kiwanis Club of Carefree for sponsoring this event.

For information, call 480-488-2764, or visit the museum's website at www.cavecreekmuseum.org.