BY LINDA BENTLEY | DECEMBER 18, 2013
Zullo said he cannot reveal any more information at this time but called it 'more nefarious than you can imagine'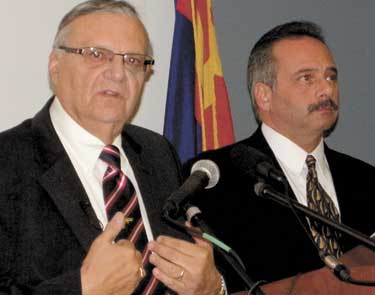 Sheriff Joe Arpaio and Mike Zullo, Cold Case Posse lead investigator, are pictured at a press conference held on March 1, 2012 during which they revealed their initial findings of likely fraud with respect to Obama's birth certificate and Selective Service System registration.
Photo by Linda Bentley


PHOENIX – Mike Zullo, lead investigator of the Maricopa County Sheriff's Office Cold Case Posse, said their investigation into Obama's fraudulent documents has taken a new twist.

Zullo said new evidence, which he says goes way beyond just a fraudulently created birth certificate "is beyond the pale of anything you can imagine," and stated when it's released to the public, possibly as early as March, it will be "universe-shattering."

Zullo said the Maricopa County Sheriff's Office is now involved and could result in criminal charges being filed.

Because it is an ongoing investigation, Zullo said he cannot reveal any more information at this time but called their findings "more nefarious than you can imagine."

Meanwhile, conspiracy theories have been cropping up about the death of Loretta Fuddy, Hawaii Health Department chief, after she was reported as the only fatality in a plane crash off the coast of Molokai last week with eight other people on board.

Fuddy purportedly waived state prohibitions for Obama in order to provide him with a copy of his long form birth certificate.

Document experts, including Reed Hayes, who has testified as an expert witness for the Perkins Coie law firm, which has defended Obama in a multitude of eligibility lawsuits, have all concluded the long form birth certificate presented to the public on April 27, 2011 by the White House is fraudulent.

Hayes came to the conclusion the birth certificate is a 100 percent forgery and was not a scan of a document but one that was digitally manufactured by utilizing material from various sources.

During an interview with Carl Gallups, talk radio host with the PPSimmons News and Ministry Network, Zullo stated the plane crash in which Fuddy was killed appears to be a "tragic accident" rather than foul play.

Neither he nor Maricopa County Sheriff Joe Arpaio believes her death was in any way connected to "any nefarious circumstances."

While acknowledging her death was a tragedy, Zullo stated it also does not affect their investigation, which he said does not hinge on Fuddy.

Zullo said, "If people truly believe that her untimely demise was somehow related to an attempt to silence her for what she may or may not know, then there are several more people in Hawaii who should be very concerned."

Although the case was initially assigned to the Cold Case Posse before the 2012 election after more than 200 citizens signed a petition at a Surprise Tea Party meeting to have Arpaio look into Obama's eligibility, MCSO is now actively involved because, according to Zullo, the investigation was "moving in a direction that was not anticipated by us."

Zullo said he is grateful to Arpaio for sticking with the investigation and stated, "He knows in his gut that something is wrong."

An eligibility case, for which Zullo has provided an affidavit, is still pending before Judge Roy Moore in the Alabama Supreme Court.