BY LINDA BENTLEY | DECEMBER 18, 2013
Districts converting to charter schools for money not choices
'You can't just slap a new charter title on a school and keep doing what you were doing inside that school and call it a conversion'

PHOENIX – Public school districts continuously clamor for more money, whether it's done through the legislature or by raising property taxes for bonds and/or budget overrides.

However, districts have recently come up with a new scheme to raise more money by converting their schools to district run charter schools.

The Goldwater Institute recently did an analysis of district schools versus charter school funding and found traditional public schools, on average, receive more state funding than charter schools.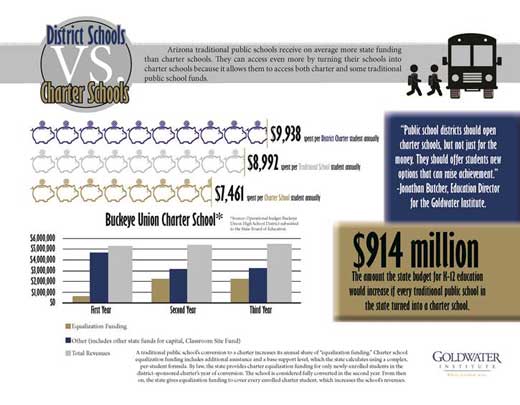 However, school districts found they could access even more money by converting their schools to district-run charter schools, which allows them to access both charter and some traditional public school funds.

Cave Creek Unified School District recently converted as many of its schools as legally permitted to district-run charter schools, offering the same teachers, curriculum and education.

Goldwater Institute Education Director Jonathan Butcher stated, "Public school districts should open charter schools, but not just for the money. They should offer students new options that can raise achievement."

According to the Goldwater analysis, if every traditional public school in the state converted to charter schools, the state budget for K-12 education would increase by $914 million.

Using the Buckeye Union High School District budget for comparison, the average spent annually per charter school student was $7,461, while a traditional public school spent $8,992 per student annually. Meanwhile, district run charter schools spent $9,938 per student.

Although Cave Creek Unified, which must offer at least one public school option for each grade level, was only able to convert four of its five elementary schools to charter schools, Paradise Valley Unified School District converted 11 traditional public schools into charters, netting the district an additional $7.2 million annually in state aid.

An online fact sheet provided by district officials informed parents that nothing would change at the schools.

According to Emily Gersema, Goldwater Institute investigative reporter, several districts that declared the switch to charters would have no effect on the schools' operations, which she said defies the purpose of Arizona charter school law: to offer students educational choices that could improve academic achievement.

Sen. Kimberly Yee, R-Phoenix, chair of the Arizona State Education Committee, finds the trend troubling and stated, "You can't just slap a new charter title on a school and keep doing what you were doing inside that school and call it a conversion."

Yee said, "We need greater oversight and more eyes on the management of a district when it decides to convert a dozen of their schools at a time to charter schools. The public needs to ask: Is this a real charter school change or just the same old school that now receives $1,000 more per student because it renamed itself a charter?" and is calling for legislative action to close this apparent loophole in the law.