DECEMBER 18, 2013
The Phoenix Symphony brings the music of The Rolling Stones to The Valley
One night only performance just announced
Who: Conductor Brent Havens and vocalist Brody Dolyniuk with The Phoenix Symphony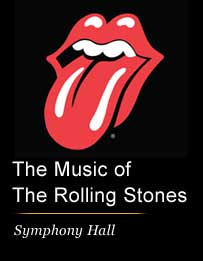 What: Featuring classic songs by The Rolling Stones like "I Can't Get No (Satisfaction), "You Can't Always Get What You Want", "Start Me Up", "Ruby Tuesday" and more, join vocalist Brody Dolyniuk and conductor Brent Havens as they take the stage live with The Phoenix Symphony celebrating 50 years of music from the "World's Greatest Rock and Roll Band." Experience vocalist Brody Dolyniuk, the voice of select tracks from Guitar Hero III, The Legends of Rock and the new hit game Rock Revolution as he recreates the raw power of The Rolling Stones in concert backed by the virtuosity of The Phoenix Symphony.

When: March 21, 2014 | 7:30 p.m. | Symphony Hall

For more information about The Phoenix Symphony and for tickets visit phoenixsymphony.org.