BY LINDA BENTLEY | DECEMBER 11, 2013
Carefree passes use tax, increases court enhancement fees
'Once the use tax is codified, we can collect it'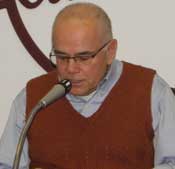 CAREFREE – As he began the Dec. 3 council meeting, Mayor David Schwan (r) thanked Chief John Kraetz and Rural/Metro Fire for taking care of a minor fire at a business location in town that afternoon.

Schwan made two attempts to reach Councilman Marty Saltzman, who indicated he would be attending telephonically, only to reach his voice mail on both occasions.

Councilman Mike Farrar asked that item three be pulled from the consent agenda prior to council approving the remaining items.

He then questioned a $6,000 payment made to the Arizona Municipal Risk Retention Pool for a claim by Kent Phillips.

Schwan told Ferrar that was part of item two, which council had already approved.

However, Town Administrator Gary Neiss explained the payment was for the settlement of a lawsuit against the town, which had already been approved by council.

During Current Events, Schwan reminded everyone about the upcoming Christmas Festival and the third annual Carefree Photo Contest, which Lyn Hitchon stated would begin accepting entries on Jan. 1, 2014.

Neiss gave a brief overview of the second reading of an ordinance to approve a use tax and stated items, such as prescription drugs, that are exempt from sales tax are also exempt from use tax.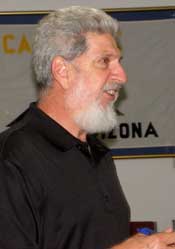 Al Holler (l), the town's tax auditor, answered questions from council and the public.

Councilman Glenn Miller asked if there was any money being held downtown that should be coming to Carefree and said he was under the impression that the state keeps it if they had no use tax.

Holler responded, "No. Once the use tax is codified, we can collect it," and the use tax would go into effect 30 days from the adoption of the ordinance.

Because there is a $1,000 exemption from the use tax per purchase, Hitchon asked if a person made a $1,200 purchase if the person would have to pay tax on the entire $1,200 or just $200.

Holler said the tax would be applied to the entire $1,200.

He also said about 45 percent of use tax is collected from big box retailers and they are good about paying it.

Council voted unanimously to approve the second reading of the ordinance.

Council also voted unanimously in favor of the second reading of an ordinance to increase the town's court enhancement fees to $25 to bring the town's fees in line with Cave Creek.

Neiss said it was one of the idiosyncrasies of consolidating the courts and would eliminate an approximately $8 subsidy Carefree is currently paying.