BY LINDA BENTLEY | DECEMBER 11, 2013
Former Scottsdale CPA sentenced to 35 years
Wise turned down a plea deal in 2009 during which the state offered Wise reduced charges with 12-15 years in prison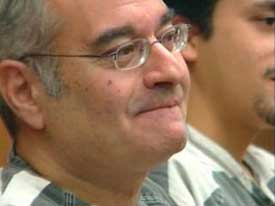 PHOENIX – Following a 19-day trial, in October 2013 it took a jury two hours to find Danny Wise, 58, guilty on eight counts of fraudulent schemes and artifices and 22 counts of theft, all with aggravating circumstances.

On Friday, Dec. 6 the former Certified Public Accountant from Scottsdale was sentenced to 35 years in prison by Maricopa County Superior Court Judge David B. Gass.

A restitution hearing is scheduled for Feb. 22, 2014.

The victims in this case included Dr. Arthur Kreitenberg, a 25-year client and childhood friend, whom Wise duped into believing he had paid the IRS approximately $270,000 in taxes on his behalf as he prepared and filed his tax returns for 2006 and 2007.

After reimbursing Wise for the money, Kreitenberg learned from others that Wise might be engaged in misappropriating funds.

Upon contacting the IRS, Kreitenberg found his tax returns were indeed filed but no payments were ever submitted and he now owed over $400,000 in taxes, penalties and interest.

Although Wise never admitted any involvement, he told Kreitenberg employees in his office may have embezzled money.

Sean and Elissa Gillespie, also long-term clients, had nearly $500,000 stolen from them using the same type of scheme, whereas Wise claimed to have filed their tax returns along with payment of the taxes due.

Not only were the Gillespies out the $500,000 they sent to Wise, who never forwarded any money to the IRS on their behalf, they still owed the money to the IRS along with penalties and interest.

When they confronted Wise, he claimed he paid the IRS and made it sound as though the IRS misapplied the money to the wrong account.

He even produced a cancelled check to prove the money was paid. The Gillespies later learned the cancelled check was forged by Wise and no such check number ever cleared his bank account.

Using the same type of scheme, Wise stole $110,000 from Carl and Laurie Farless and over $53,000 from Francesco and Hillary Chierici.

As Wise stole money from his clients intended for the payment of their tax obligations, he also continued billing them for his accounting services.

Wise was originally indicted in May 2009 with a superseding indictment for additional charges filed in December 2009.

The thefts occurred between December 2006 through April 2008 and in December 2008 the Arizona Board of Accountancy revoked his certification.

Wise turned down a plea deal in 2009 during which the state offered Wise reduced charges with 12-15 years in prison.

In May 2009, only days before Wise was arrested, the Arizona Corporation Commission found Wise responsible for a Ponzi-type investment scheme involving nearly $70 million dollars and fined him $5.7 million. The commission also ordered Wise to pay more than $67 million in restitution to his victims.

Several of the victims in that case, many of which were also long-time friends and clients of Wise, filed an involuntary bankruptcy against Wise in order to freeze his assets and have them placed in receivership to be liquidated.

Wise's condo in Manhattan, home in Flagstaff and home in the Desert Mountain golf community of Scottsdale were all liquidated along with his personal belongings.

Although Wise and his wife Cindy attempted to hide fine jewelry in the central vacuum canister of their Scottsdale home, it was located by law enforcement officers as they executed a search warrant at the property.

Wise is facing 102 counts of mail fraud, wire fraud and transactional money laundering in federal court in connection with the Ponzi investment scheme in which he bilked approximately 115 victims in at least 13 states out of close to $70 million.

His trial in that case is scheduled to begin mid February.