DECEMBER 11, 2013
Only two weekends left to enjoy The Velveteen Rabbit
Performances at Tempe Center for the Arts through Dec. 22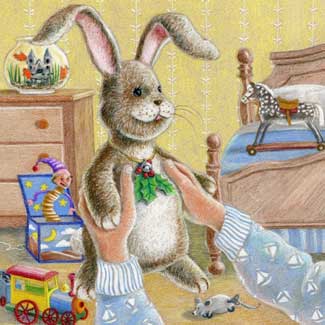 TEMPE – Childsplay celebrates the 25th Anniversary of its holiday tradition with the return of The Velveteen Rabbit. The stage adaptation of Margery Williams's classic picture book brought holiday magic to Valley families for years, and now a new generation of kids will experience this enchanting story. For any child who has ever loved a favorite toy, The Velveteen Rabbit will give you a reason to believe in magic.

"We've always thought of The Velveteen Rabbit as the perfect introduction to the magic of theatre for the youngest members of our audiences and their equally young-at-heart families," said Director David Saar. "The Velveteen Rabbit was once a "new play" at Childsplay, and I know it will again provide that same magical experience for the first-time theatre-goer in 2013 as it did for those in 1989."

Performances of The Velveteen Rabbit will be held at Tempe Center for the Arts, 700 W. Rio Salado Parkway through December 22, Saturdays and Sundays at 1 p.m. and 4 p.m. Tickets start at $15 and are on sale now at www.childsplayaz.org or at the Tempe Center for the Arts Box Office 480-350-2822 (ext. 0). The play is recommended for ages 3 and up.

The Velveteen Rabbit features Kaleena Newman as "Boy," Eric Boudreau as "Nana," and Kate Haas as "Nursery Fair." Childsplay favorites Katie McFadzen, Jon Gentry, Dwayne Hartford and Debra K. Stevens round out the cast as "Rabbit," "Tin Soldier," "Skin Horse" and "Narrator." The show is directed by Childsplay Artistic Director, David Saar. The Velveteen Rabbit was written by Brian Burgess Clark, adapted from the book by Margery Williams.

FREE TICKET for your child's stuffed animal! Each child is invited to bring their own special stuffed toy to sit with them during the performance.

Childsplay and Arizona Literacy & Learning Center present: The Velveteen Rabbit Book Drive. Help brighten the holidays with a donation of new or gently used books. These include: baby books, children's books, beginning chapter books, and youth chapter books. Childsplay will serve as a drop-off location throughout the run of The Velveteen Rabbit at the Tempe Center for the Arts.

For more information, visit www.childsplayaz.org.