DECEMBER 11, 2013
Ballet Arizona, Arizona Opera, and The Phoenix Symphony announce performance program for TRIO
PHOENIX – Ballet Arizona, Arizona Opera, and The Phoenix Symphony will feature excerpts from beloved classics as well as new work at TRIO, a joint gala and performance celebration on Saturday, February 22, 2014 at Symphony Hall. The performances are united under the theme "¡Amor! - An Evening of Passion."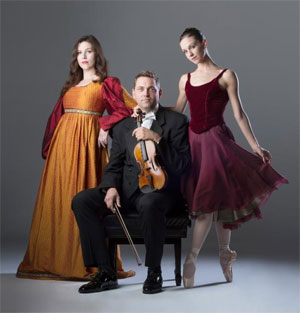 Highlights of the 75-minute program include:
A suite from Leonard Bernstein's "West Side Story" alluding to the passion of young, star-crossed lovers, performed by The Phoenix Symphony and artists from Arizona Opera.

Excerpts from the classic "La Bayadère" presented by Ballet Arizona, conveying the fiery desire of an impassioned love triangle set in exotic India.

A new work choreographed by Ballet Arizona dancer Tzu-Chia Huang. "Between" is set to John Williams' emotional theme from "Schindler's List" and embodies the agony and ecstasy of love lost and reclaimed.

An electrifying finale bringing all the artists to the stage with excerpts from Georges Bizet's iconic tale of passion "Carmen".
TRIO brings together - for just the second time in the history of Phoenix performing arts - all three of Arizona's premier performing arts organizations for a performance which showcases the artistic strengths of the Ballet, Opera, and Symphony. Hosted at Symphony Hall, the collaboration brings together the resources of each organization to support their shared mission of providing world-class live performances, arts education and outreach to the community.

"As an artistic team, the Ballet, Opera and Symphony want to take the audience on a journey that evokes just some of the many ways passion can manifest - joy, heartbreak, hope and fury," said Ib Andersen, Artistic Director of Ballet Arizona.

The evening's Steering Committee includes: Carol Clemmensen, Molly DeFilippis, Jacquie Dorrance, Nan Howlett, Linda Hunt, Sharron Lewis, Eliot Minsker, Dionne Najafi, Barbara Ottosen, Mac Perlich, Carol Schilling, Ellie Shapiro, Nancy Spetzler, Daryl Weil, and Judith Wolf.

What: TRIO Gala, "¡Amor! - An Evening of Passion", a black tie event with a Latin twist
When: February 22, 2014 at 5:30 p.m.
Where: Symphony Hall; 75 N. 2nd Street Phoenix, AZ 85004
Tickets: Tables of 10 are available at various sponsorship levels. Individual tickets for the evening performance and Gala dinner are $500.
Performance-only tickets are available starting at $25.
Sponsorships: A wide range of sponsorships are available to support this event and build relationships with gala participants, including VIP tables and promotional opportunities. For sponsorship information contact Karen Thorn at 602-452-0420.For more information visit trioevent.org .