DECEMBER 11, 2013
Arizona Musicfest Young Performers recital Jan. 18, 2014 at 2 p.m. at Grayhawk, North Scottsdale
Gifted young musicians don't walk out their front doors, directly onto the stage or into a classroom at a prestigious college-level music school. They work hard at their schoolwork, community commitments and practice, refining their techniques and learning how to perform in front of an audience.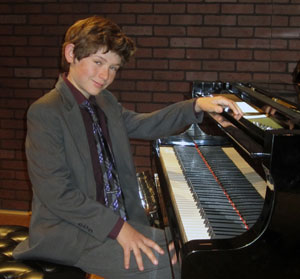 "Arizona Musicfest is proud to offer talented and dedicated kids the opportunity to perform in a professional concert environment," said Irene O'Hare, Chairperson of the Arizona Musicfest Youth Performance Committee. "As an audience member at a Young Performers Recital, you are part of an inspiring musical experience filled with beautiful works by master composers. I can't think of a better way to spend an hour on a Saturday afternoon!"

The Jan. 18, 2014, Young Performers Recital hosted by Vi at Grayhawk features three award-winning young artists. Linda Han (violin) will perform Beau Soir by Debussy, arranged by Heifetz; and Sarasate's Zingeunerweisen, op.20. Jonah Breakstone (pictured, above – piano) will perform a program of Scarlatti's Sonata in f minor, K 466; Czerny's Variations on a Favorite Viennese Waltz by Franz Schubert, op. 12; and Rachmaninoff's Elegie op. 3. Jessica Zhang will perform Haydn's Sonata in C Major, Hob XVI: 50 and Chopin's Grande Valse Brillante in A flat Major op. 34 no1.

The concert is followed by a Meet the Musicians reception with refreshments, so that everyone can ask questions, discuss the program or chat about various musical experiences. "This pleasant afternoon interlude is also the perfect amount of time and setting to comfortably introduce the children or grandchildren in your family, ages five-and-up, to the delights of live music," O'Hare pointed out. "And, it's free!"

Vi at Grayhawk is located at 7501 E. Thompson Peak Parkway, Scottsdale, 85255. No RSVP is required. Please call Arizona Musicfest at 480.488.0806 for additional information or visit www.azmusicfest.org.