DECEMBER 4, 2013
OBITUARY
Tammy Morrison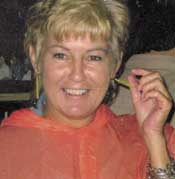 Tammy Morrison of New River, Ariz., was born in Vernal, Utah, on April 24, 1959 to Kenneth and Velma Phillips. She died on November 27, 2013 at St. Joseph's Hospital in Phoenix.

Tammy met Jeff Gollnick while they worked together at an electrical contracting company in 1985 and they were together as life partners since 1988.

Tammy became a purchasing agent in 1992 and pursued an Associates Degree in Purchasing, which she received in 2002. She worked in purchasing until in 2005, when she began working with Jeff in his Desert Foothills Electric business.

Tammy is survived by Jeff, her mother Velma of Vernal, Utah, son Patrick of Phoenix, Ariz., sisters Laurie Pitchford, Marci Lent and brother William Phillips of Vernal, Utah, Jeff's mom Shirley of Phoenix, Ariz., brother Tim (Lisa), niece Lauren and nephew Taylor of Peoria, Ariz., sister Nancy Jenkins of Portland, Ore.

Tammy is predeceased by her father, Kenneth and Jeff's father, Louis Gollnick.

The family requests contributions to the online memory book; visit http://www.bestfuneralservices.com/obituaries.

Sonoran News will publish details about an upcoming memorial service as soon as plans are finalized.