BY LINDA BENTLEY | DECEMBER 4, 2013
Finalists selected for permanent town manager post
The three finalists include Peter Jankowski from Mass., James Palenick from N.C. and Himanshu Patel from Florence, Ariz.
CAVE CREEK – With no one wishing to speak during Call to the Public, Interim Town Manager Rodney Glassman presented plaques from ASU to both Vice Mayor Adam Trenk and Councilman Mike Durkin because they were both alumni.

Glassman then touted the Taste of Cave Creek even as the most transparent yet but had to move Finance Director Robert Weddigen's report of the event to later in the agenda due to technical difficulties.

He thanked IT Coordinator Mike Rigney for the latest edition of the Cave Creek Coyote, the town's newsletter, which he said is being sponsored by Rural/Metro.

David Modeer, general manager of Central Arizona Project (CAP), was unable to attend Monday night's meeting for a scheduled presentation.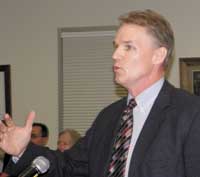 CAP Associate General Manager Kathryn Royer and General Counsel Jay Johnson (r) appeared in his place to make the presentation.

Johnson said the Navajo Generating Station (NGS) was the biggest issue on the table and EPA regulations.

He explained the EPA's proposed Best Available Retrofit Technology (BART) rule issued in February 20013 to reduce nitrogen oxide (NOx) emissions from the NGS coal plant.

What the EPA has proposed will cost $544 million and possibly exceed $1 billion if additional air filters are required to reduce air-borne particulates created by the proposed Selective Catalytic Reduction (SCR) technology by 2018 or 2023 at the latest.

CAP's portion of these costs would be borne by its customers and the people in Maricopa, Pinal and Pima counties.

Meanwhile, CAP, the Gila River Indian Community, the Navajo Nation, SRP, the Environmental Defense Fund, the U.S. Department of Interior and Western Resource Advocates created a Technical Work Group (TWG) to develop an alternative plan for NGS.

The TWG BART proposal presented two alternatives to the EPA in July that ensure NOx emissions over the life of NGS will be less than what would occur under the EPA proposal and allows sufficient time for NGS owners to address uncertainties facing the plant, including the upcoming departure of two NGS owners, Los Angeles Department of Power and Water and Nevada Energy.

Johnson pointed out if NGS closes due to the cost of EPA regulations, the price of water will go up substantially.

Royer thanked council for passing a resolution in support of the Better than Bart alternative for NGS and said that support is very much appreciated.

She also stated the EPA public comment period is open until Jan. 6, 2014 and CAP welcomed public support of the TWG BART proposal.

Comments should be submitted by identifying the docket number EPA-R09-OAR-2013-0009 and may be sent through the Federal eRulemaking Portal: www.regulations.gov, via e-mail: r9ngsbart@epa.gov, or via mail to: Anita Lee (Air-2), U.S. EPA Region 9, 75 Hawthorne St., San Francisco, CA 94105-3901.

Royer said more information helpful to submitting comments is available on CAP's website: www.cap-az.com.

During questions from the public, Kerry Smith asked, "What provisions do you have in mind for carbon?"

Johnson replied, "I don't know."

Weddigen presented the accounting for this year's Taste of Cave Creek and noted the town brought in $15,000 over last year's $6,000.

He said the town kept 25 percent of ticket sales and kept a bigger portion of ticket sales for the town.

Mayor Vincent Francia asked Glassman how many hours were invested in the event.

Glassman responded by talking about community building hours with local businesses and other subjects that did not address Francia's question.

Francia said, "My question still stands. How many hours?"

Glassman stated, "My time was negligible," and said the event was led by co-chairs Weddigen and Town Marshal Adam Stein.

When asked the same question, Stein shrugged. When asked if it was more than 100 hours, Stein nodded.

Francia asked Glassman how they could improve the event.

Glassman went on about other things associated with the event and said Rigney adjusted the advertising scheme so all the materials included the town's logo in order to better promote the town.

Francia then looked at Stein and asked, "How can we improve the event?" and asked if he could keep his answer down to 50 words or less.

Stein replied, "Corporate sponsorships."

Utilities Manager Jessica Marlow and Rob Bryant from Water Works Engineers presented the water and sewer master plans, which were both unanimously adopted by council.

Bryant said there were comments received and incorporated into the plan from the Water Advisory Committee using two growth scenarios – normal growth and two times normal growth.

Committee Chairman Bill Allen commented to say there are pressure issues and administrative issues that the attorney and town need to look at.

Durkin asked them to summarize the changes recommended by the committee.

Marlow said they looked at most conservative population estimates through 2040 and stated all that did was push population build out into the future.

During public comment, David Smith, a member of the Water Advisory Committee, stated the water master plan was generally acceptable for approval but said Estado de Cholla and Black Mountain Shadows experience excessive pressure.

He requested council accept the plan with remediation included for both subdivisions.

Bob Moore, a Black Mountain Shadows resident, stated excessive pressure has resulted in thousands of dollars in property damage throughout Cave Creek and said, "This engineering firm has detailed this problem better than any other firm."

He asked for a corrective form of action within two months.

Bob Morris, a committee member, stated high water pressure in Cave Creek is a common problem across the country and said the town needs a comprehensive solution to address the issue.

Scott Dahne said it was a great plan but noted the base rate for water went from $18 to $50 and asked if items called for in the plan were going to increase the base rate again.
He asked, "Will we have a $100 or $150 base rate in five years?"

As he called for a vote, Francia asked for the pressure issues at Estada de Cholla and Black Mountain Shadows to be addressed separately at a future council meeting.

Durkin commented, "We are very lucky to have the talent we have on the Water Advisory Committee."

During discussion about the sewer master plan, Bryant said the town was way ahead on capacity and stated of the 600 sewer connections, 500 were residential.

Bryant said the Capital Improvement Plan for wastewater was "pretty minimal."

During public comment, Bob Moore asked about the odor problem at San Soucci.

Everett Bell said there was also an odor problem at Estado de Cholla emanating from the plant itself.

Francia said there was already a meeting scheduled to address those problems.

Council voted unanimously to approve a resolution that would provide a one-time $20 credit for water customers who elect to receive paperless bills and use the online bill-pay function.

It also unanimously approved a resolution declaring the month of December "Creeker Commerce – Buy Local Month."

An agenda item to accept seven deeds of gifts associated with the Bella Vista Loop easement plan was continued to the Jan. 20, 2014 meeting.

Glassman provided council with an update on the process of selecting a permanent town manager and said the pre-selection committee, after reviewing the 80 applicants from across the country, ranked them in descending order and whittled them down to 16 after the first round.

The second round left them with eight candidates, while the third round narrowed it down to the final three to be presented to council on Monday, Dec. 9, where they will have round-robin interviews with the mayor and members of council.

The three finalists include Peter Jankowski from Mass., James Palenick from N.C. and Himanshu Patel from Florence, Ariz.

During public comment, Everett Bell asked if the committee narrowed down the applicants by just reviewing them on paper or if they made phone calls.

Francia said it was paper only.

Bob Moore asked when citizens will get to see their resumes.

Glassman said it would be agendized for the Dec. 9 meeting and they would be online "tomorrow" (Tues).

Trenk thanked Mesa Mayor Scott Smith even though he wasn't present and Glassman for serving on the pre-selection committee with himself and Francia.

Referring to the final three candidates, Francia stated, "If I had to decide right now, I wouldn't be able to without meeting them."