DECEMBER 4, 2013
Sixth Annual Carefree Christmas Festival Dec. 13-15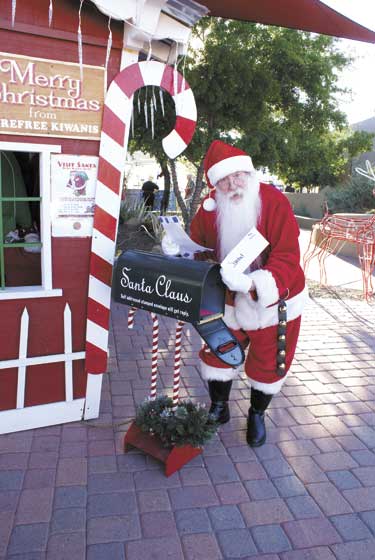 CAREFREE – Real snow in the desert, giant cacti glowing and twinkling in the night and an electric light parade that weaves its way around one of the world's largest sundials are just part of the fun at the weekend-long Annual Carefree Christmas Festival.

This annual event, will be held in Carefree Friday, Dec. 13 through Sunday, Dec. 15.

A full slate of holiday activities, striking desert mountain scenery, plus sunny day-time weather make the Carefree Christmas Festival a must-see event for visitors from around the country and around the valley.

The crown jewel of the festivities is the colorful, entertaining electric light parade. The parade, sponsored by the Carefree Resort and Conference Center, will be held on Saturday night at 6 p.m. and will wind its way through the center of the Carefree community. Plan to arrive early.

Visits with Santa take place in his official desert home, "The Grotto." Thirty five tons of real snow will be brought in from the North Pole! Kids of all ages are invited to throw snowballs and play in the snow. For many of the children who have grown up in the desert, snow will be a first-time experience.

Free Sanderson Lincoln Pavilion Entertainment is sponsored by the BMO/Harris Bank. Nighttime holiday festivities will include swing and big band holiday music concerts, folk musicians singing Christmas favorites and traditional chorale groups playing Yule time classics. All of the many musical shows will be staged near the Sanderson Lincoln Pavilion stage.

The Carefree Christmas Festival events are free for the public. Visit www.carefreechristmasfestival.com for a full schedule of events.