My View
BY DON SORCHYCH | DECEMBER 4, 2013

Francia, Trenk and Brennan
Jerry Foster's book signing
Mayor Vincent Francia thinks his job is to mentor people who want his job. His thinking must be if he does favors for his competitors they will patiently wait for his retirement and then step into his position. The pending recalls include him but he thinks his statements here and there that he will retire in 3 years protect his last term.

In years past he told me he liked and mentored the likes of now Vice Mayor Adam Trenk and ex-councilwoman Kim Brennan.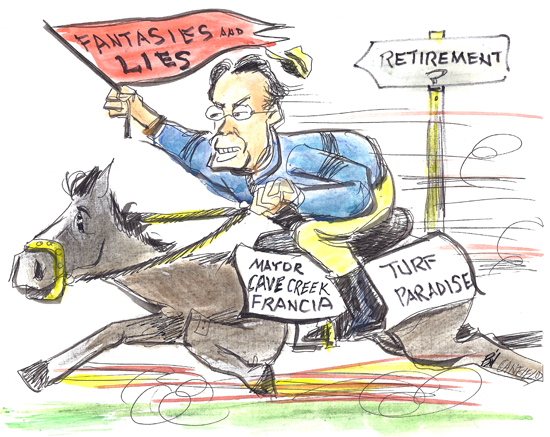 From the dais Francia stated Trenk was his friend and they had regularly scheduled meetings. We believe Trenk views Cave Creek as a stepping stone and his goal is Congress in Washington. Twice Francia told me both Trenk and Councilman Reg Monachino told him they had no plan to remove Usama Abujbarah from his position as town manager. They said they only wanted to "rein him in."

The question is who lied?

Since that time Francia wasted no time putting on his chameleon suit. I hear he told Kiwanis he was working with the best council ever. What a shot in the butt for the many excellent council members he worked with and their many accomplishments.

Obviously he doesn't talk to employees of the town who are angry and scared, with no respect for Trenk or his friend, Rodney Glassman. This, in spite of Trenk's stupid statement in his rant in Vannucci's web blog: "Mayor Francia's actions in the post-Abujbarah era speak louder than any words. Finally he is free to serve to the best of his ability, and it has benefited the town."

Yes, Francia's actions do speak louder than words and they are fantasies and lies. Furthermore, Cave Creek has a town manager form of government and the town manager runs the town, not the mayor. But making Trenk's buddy town manager simply means the mayor is tending to the race track and Trenk tells Glassman what to do, which isn't much. Glassman arrives late, closes his office door, leaves early and spends prodigious amounts of taxpayer money on gas and other expenses. Furthermore, he is paid for his commute to his residence at the Biltmore which is 79 miles each day at $.56 per mile. I worked for 5 different companies since I graduated from college and no company allowed commuting remuneration.

But before we are done with Francia, here is further truth of his descent into the dark side of politics.

Francia sent this Facebook message to his friend Kim Brennan on Friday, Nov. 30:
"Kim. I met a couple yesterday on a post-Thanksgiving Day meal walk on New River Road. They were looking at the house on the corner of 50th Street & New River Road. I believe the address is 34445, though not certain. Anyway, they want to buy it; current asking price-I believe-is $850,000. I think it sold at an auction a couple of months ago. Anyway, the couple need an agent to help them. I thought of you; but I've misplaced your number. The couple who live in CC on Paloma Drive are calling me at 4 today to get your number. Please text, or just call me at, (480) 251-9010 with your number."

Several issues here. I am sure any realtor would like this lead; why Brennan? So she will owe him what? A backdoor commission share or at least a vote in recall? At seven percent realtor commission rates that sale could give her a $59,500 commission less broker fees. Did Francia's memory fail him? Remember the open meeting violations when she was on council and the advice she gave Herb Thompson as his realtor when she was a sitting council member?
Thompson told me she told him to charge $2.5 million for the property upon which the town had encroached. The town eventually purchased the property for $1.2 million.

With all the honest hard working realtors in town, why Brennan?

Francia told me about the bar Brennan once ran in Mexico during her stripper days so he is an insider with her.

I am also told Francia promised several past council members that if they ran as candidates he would openly campaign for them. He didn't campaign for any of them and I am sure we will hear from them when the recall starts. Wives too were crushed by his refusal to keep his word.
By the way, since Vannucci has decided to print rants like Trenk wrote for her, which depicted Sonoran News and me falsely, it is only fair play to look in our archives and tell citizens who this woman is. The beginning article is in this issue but the next online issue will tell our readers about her immersion in a Ponzi scheme.
Jerry Foster
Last week I wrote a book review about Jerry Foster's new book, "Earthbound Misfit" a 585 page compendium that took three years for him to write. The opening of the review is on the Sonoran News Online page in this issue, full version in the Nov. 20 online issue. It is a fantastic book. He has agreed to do a book signing in Cave Creek and Jeff Price, proprietor of the Horny Toad, will host the book signing. Meet Jerry Foster in person and get your signed copies of "Earthbound Misfit" at the Horny Toad on Wednesday Dec. 11, from 5 until 8 p.m. Give a Christmas gift no one will want to put down.