DECEMBER 4, 2013
11th Annual Cave Creek Luminaria Run set for Sat., Dec. 7
Luminaria-Lit evening includes 5K Run, One Mile Fun Run/Walk and Kids' Desert Dashes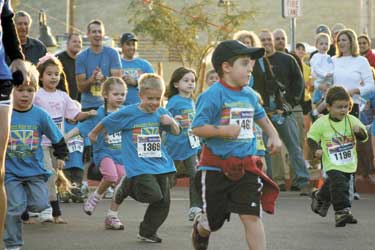 CAVE CREEK – As the sun sets on the evening of Sat., Dec. 7, hundreds of runners, joggers, walkers, families and friends will gather to participate in the 11th Annual Cave Creek Luminaria Run amidst the beautiful desert mountains and hills of the Cave Creek Regional Park. The event features a timed 5K Run, an untimed one-mile Fun Run/Walk and kids' Desert Dashes ranging between 50 and 100 meters. The first race begins at 4:45 p.m. and participants and onlookers are encouraged to come early for the best parking at Cave Creek Memorial Rodeo Arena, 37201 N. 28th St., in Cave Creek. Registration fees range from $10 to $35. Proceeds benefit Desert Foothills Theater, a program of the Foothills Community Foundation.

The new course location is uphill out and downhill back featuring stunning desert views and gorgeous city lights. Lit luminarias will line both sides of the road as participants run and walk the course.

Luminaria race director and founder Meribeth Reeves said the event is still in need of sponsors and volunteers, including people to serve on the Luminaria crews.

"Our Luminaria crews are made up of four people and a pickup truck that each take up to three hours to place and light luminarias on a half-mile section of the course. It's a fun activity for friends and families and you'll also be treated to free pizza from Bad Donkey," Reeves said.

This year's event is bittersweet for Reeves, an avid runner who is healing from a broken leg. But even though she is not able to run this year, she takes pride in seeing how the community comes together to support the Luminaria Run.

Participants can register online, via mail or in-person through Dec. 5 from 9:30 a.m. to 4 p.m. Tuesday through Friday at the FCF-Holland Community Center, 34250 N. 60th St., Building B, in Scottsdale or through Dec. 6 from 2 p.m. to 7 p.m. at Roadrunner Sports, at Scottsdale Road and Mayo Boulevard (south of the 101, next to Whole Foods). For more details, visit www.luminariarun.org or call 480-488-1981.

Cave Creek Luminaria Run wishes to thank its supporters: Maricopa County Parks and Recreation, Cave Creek Regional Park, The Town of Cave Creek, Roadrunner Sports, Wilhelm Automotive and more.