DECEMBER 4, 2013
Carefree Kiwanis Benefit Concert with The New Christy Minstrels
"Building the Future for Kids"; Jan. 18 at 7:30 p.m.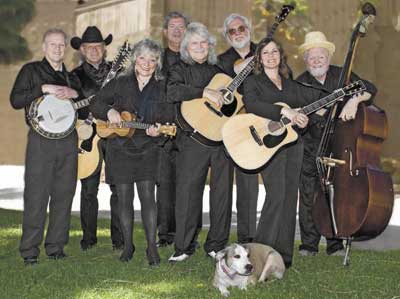 With their engaging original songs and high energy, The New Christy Minstrels - founded by Randy Sparks who heads up the group today - burst onto the American folk music scene in 1962.

Their debut album, Presenting the New Christy Minstrels, won a Grammy Award and topped Billboard charts for two years. Their immense popularity in concert and on television and movie soundtracks, was and is due to their philosophy that their brand of folk music should entertain and make people "forget about problems."

The group is still going strong with original members performing hits like "Today," "Green, Green," "Mighty Mississippi," "Saturday Night," and "This Land Is Your Land," as well as fresh songs from their new CD, Nice Time To Be Alive. "For over fifty years we have been the best talent show ever," said Randy Sparks. "We still are."

Members of The New Christy Minstrels are: Randy Sparks, Dolan Ellis, Pete Henderson, Eddie Boggs, Becky Jo Benson, Jennifer Lind, Dave Deutschendorf, Greg O'Haver and Vecca, The Show Dog.

"The genuine star of our show when we're in Arizona is Dolan Ellis, Arizona State Balladeer," Sparks pointed out. Ellis is Arizona's first and only official State Balladeer, appointed by then-Governor Sam Goddard in 1966, and reappointed by every successive governor. As the first "Arizona Culture Keeper," Ellis' work "embodies the dusty-cowboy feel and every man folklore of the Southwest through storytelling." [Phoenix Magazine]

The Carefree Kiwanis Benefit Concert with The New Christy Minstrels on Saturday, January 18, 2014, supports the Kiwanis of Carefree Benefit Foundation with 100% of each $30 concert ticket going towards "Building the Future for Kids." Advance tickets are available for $30 by calling 480-488-8400. Tickets purchased at the door on the night of the performance are $40.

The concert begins at 7:30 p.m at North Scottsdale Christian, located at 28700 N. Pima Road, Scottsdale 85266 (on the west side of Pima, just north of Dynamite). All proceeds benefit the Kiwanis of Carefree Benefit Foundation (Kiwanis Club of Carefree, a 501.c3 organization). The Kiwanis Club of Carefree is "Building the Future for Kids," helping children recognize and develop their potential by offering post-secondary scholarships, summer art programs, community science fairs and mentoring, special needs support, youth service organizations, and more.

For information or to volunteer with the Kiwanis Club of Carefree, call 480-488-8400 or visit www.kiwaniscarefree.org.