NOVEMBER 20, 2013
Nativities display to benefit Food Bank
Enjoy these nativities from around the world Dec. 7 – 8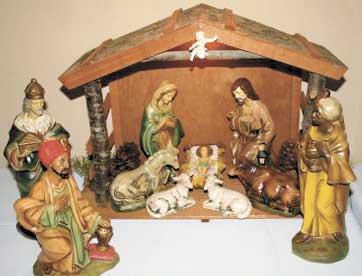 CAVE CREEK – Foothills Food Bank and Resource Center will sponsor the third annual Nativities of the World display featuring more than 150 different nativity scenes created by artists from around the world and made from every imaginable material. Each nativity will be on loan from local community members.

This display will be held at Desert of the Hills Presbyterian Church, 34605 N. Scottsdale Rd Scottsdale, Ariz., on Saturday, December 7 from 10:30 a.m. – 5 p.m. and Sunday, December 8 from 12 – 4 p.m.

Monetary and non-perishable food donations are welcome and benefit Foothills Food Bank and Resource Center, which serves the communities of north Phoenix, north Scottsdale, Rio Verde, Cave Creek, Carefree, Desert Hills, New River, Anthem, northwest Phoenix and Black Canyon City. For more information or to display a nativity, call 480-488-0423 or email KP.nativities.foodbank.az@aol.com.

Foothills Food Bank and Resource Center is located at 6038 E. Hidden Valley Drive in Cave Creek, Ariz., 85331 and the website is www.foothillsfoodbank.com.