NOVEMBER 20, 2013
American Indian fashion exhibit opens Nov. 23 at Heard Museum North Scottsdale
SCOTTSDALE – How Native design has influenced modern fashion trends is the subject of American Indian Fashion: from Lloyd Kiva New to Now, an exhibit opening Nov. 23 at the Heard Museum North Scottsdale, 32633 N. Scottsdale Road (at Ashler Hills Drive), Scottsdale. The exhibit will be on display until Oct. 26, 2014.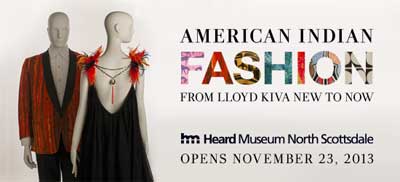 In addition to that influence, Indian fashion and design provide a platform for personal expression for Native artists and reinforce Native identity, said Heard curator Janet Cantley.
The materials, design, style and accessories honor tradition and create innovative statements on identity and culture and the clothing and accessories are a form of communication, having a storytelling component, she said.

Visitors will see clothing and accessories from the Heard Museum collection and a few loans, beginning with attire from the 1950s designed by the Cherokee designer Lloyd Kiva New of Scottsdale and bringing it to the present with today's designers.

Those designers include Kay Bennett (Navajo), Margaret Wood (Navajo), Ramona Sakiestewa (Hopi), Virgil Ortiz (Cochiti Pueblo), Pilar Agoyo (Ohkay Owingeh/Cochiti Pueblo/Santo Domingo Pueblo), and Patricia Michaels (Taos Pueblo), who recently was a runner-up on the hit television show Project Runway.

Details about curator's talks and other programming for the Heard North Scottsdale exhibit will be available at heard.org.