NOVEMBER 20, 2013
Community Briefs
Hidden in the Hills Studio Tour starts this weekend
The Sonoran Arts League's Hidden in the Hills Artists Studio Tour and Sale takes place this week beginning on November 22. Enjoy this free, self-guided tour of 46 studios and 167 working artists in Cave Creek, Carefree and North Scottsdale. It's best to plan ahead. A directory and database of participating artists can be found online at www.HiddenintheHills.org as well as an online customizable map to help you in planning your trip to your favorite artist's studios.
Two seminars and discussions
Timothy Ballard, author, former CIA employee and currently working with Homeland Security, presents America's Sacred and Immutable Connection to Ancient Israel Friday, Nov. 22, 6:30 p.m. at Deer Valley Airport Restaurant, 702 W. Deer Valley Road, Phoenix. Introduction to the Divine Intervention for the Founding of our Nation will be presented Saturday, Nov. 23 at 10 a.m. at North Scottsdale Christian Church, 28700 N. Pima Rd., Scottsdale.
Foothills Food Bank & Resource Center to benefit from holiday light display
A Cave Creek home listed on a metropolitan Christmas lights map will also serve as a donation location to benefit the Foothills Food Bank & Resource Center. The home, located at 6726 E. Dixileta Drive, will showcase 60,000 lights synced to music. The lighting display and food donation drop-off will be open to the public from 6 – 9 p.m., Sundays through Thursdays and from 6 – 10 p.m. on Fridays and Saturdays starting on November 26.
Foothills Food Bank & Resource Center seeks van drivers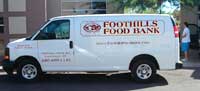 The Foothills Food Bank & Resource Center is in need of volunteer drivers to pick-up and drop off food and related items for the food bank because requests for food assistance intensify during the holiday season. John Murphy, who can be reached at 480.443.3790, can answer questions regarding specific duties and store locations and hours.
Concert fund-raiser planned to benefit Foothills Food Bank & Resource Center
A holiday concert, featuring the Orpheus Men's Choir, will be held on December 1, 2013 at 4 p.m. The concert is sponsored by Desert Foothills Lutheran Church, which is located at 29305 N. Scottsdale Road, Scottsdale, AZ 85266. All from the event benefit the Foothills Food Bank & Resource Center. Tickets, which are $20, may be purchased at foothillsfoodbank.com. Additional information can be obtained by calling the church office at 480-585-8007.
Christ Anglican Church Advent Lessons and Carols
Fr. Steven Dart will host Advent Lessons and Carols on Sunday, December 1 at 4 p.m. Christ Anglican Church, 35500 N. Cave Creek Road, in Carefree. The one-hour devotional commences the holiday season with scripture and songs. A reception in Dorothy McGinnis Hall will follow the lessons and carols. Call 480-488-0525 or visit www.christchurchaz.com.