NOVEMBER 6, 2013
Desert Discovery Day at the Jewel of the Creek Preserve!
Join Desert Foothills Land Trust and other local organizations to explore our beautiful Sonoran Desert!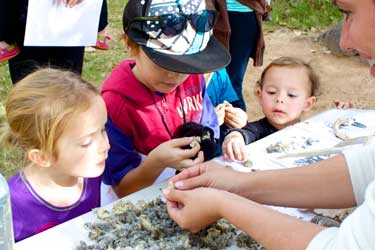 Hands-on activities at Desert Discovery Day in 2012 included investigation of the contents of owl pellets!
Photo by Pat O'Brien



CAREFREE, CAVE CREEK, SCOTTSDALE – Discover the wonder and beauty of our Sonoran Desert home! Desert Foothills Land Trust is thrilled to host a day of free outdoor experiences and hands-on education at the Jewel of the Creek Preserve in Cave Creek, Arizona.

Desert Discovery Day on November 16, 2013 will allow children of all ages to explore the preserve, learn about the diversity of life in our desert, and to examine the geology and archaeology underlying this magnificent landscape.

The day will include a "scavenger hunt" of informational stations along the Harry Dalton Trail. Children will receive a stamp at each station, and they'll receive a goody bag for collecting all the stamps. Stations will include information and activities from the Land Trust and partner organizations, such as live raptors from Wild At Heart, practicing corn grinding on a metate from the Desert Foothills Chapter of the Arizona Archaeological Society, or examining the interior structure of a saguaro with the Desert Awareness Committee. There will be live animals, crafts, and even free refreshments!

The focus for the day is to share the beautiful Sonoran Desert and the Jewel of the Creek with the community in a way that encourages support for conservation efforts and participation in hiking and other healthy outdoor activities.

Other participants include:
AZ Archaeological Society, Desert Foothills Chapter
Cave Creek Museum
Desert Awareness Committee of Foothills Community Foundation
Phoenix Herpetological Society
Southwest Wildlife Conservation Center
Wild At Heart

The Jewel of the Creek is a 26-acre preserve adjacent to Spur Cross Ranch Conservation Area. The Jewel supports sensitive and high quality riparian habitat along Cave Creek. This perennial water source is important to both plants and wildlife, and has supported a rich human history, as well.

Once threatened with a road, bridge crossing and development, Desert Foothills Land Trust purchased the Jewel in 2001 through contributions from the Growing Smarter State Trust Land Acquisition Program, administered by the Arizona State Parks Board, as well as gifts from community members and supporters. The Jewel is open every day from dawn to dusk for hiking and exploration. The trail system includes a relatively easy hike along the bluff overlooking the creek, as well as a steep and rocky trail down to the creekside. The trails then follow the creek before another rocky and steep climb back to the bluff.

Desert Discovery Day is sure to be an exciting event for our community, and for our children in particular. Wear your hiking shoes and come prepared for fun, hands-on desert adventures. We can't wait to see you out there!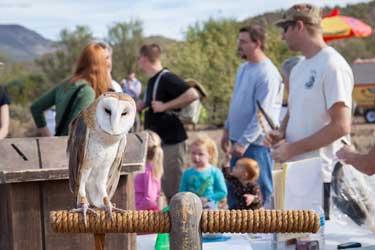 Desert Foothills Land Trust works with landowners, communities and partners to protect the most special and important natural areas in the Arizona communities of Carefree, Cave Creek, north Scottsdale, north Phoenix, Anthem, Desert Hills and New River. The Land Trust has permanently protected 680 acres on 22 preserves, many of which are open to the public for exploration and passive recreation. In 2010, the Land Trust was awarded accredited status by the national Land Trust Accreditation Commission – a mark of distinction in the land trust community.

More information is available at www.dflt.org or 480-488-6131.

Above: 2012 Desert Discovery Day visitors enjoyed a barn owl from Wild At Heart.
Photo by Jon Klas