OCTOBER 16, 2013
What happens when senior dogs outlive their senior humans?
Animal Guardian Network is proud to announce the launch of their latest program: The Old Dog Inn, a haven for dogs who have lost their human families.

The Old Dog Inn will consist of 3 to 4 individual cabins where senior dogs who have lost their human seniors can spend the rest of their lives in a loving setting that feels like home.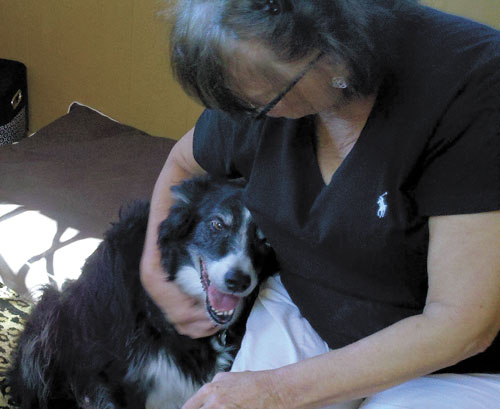 Each cabin will represent a mini version of a home environment including relaxing music, soft beds, new toys, treats and a comfy loveseat or chair.

Once we have residents we will announce our PET PAL volunteer opportunities. To become a PET PAL all you need to do is give a minimum of an hour of your time to sit with a senior pup. Imagine how much just an hour can mean to a grieving senior dog.

Since the Old Dog Inn will only consist of 3 to 4 cabins we will have limited availability so our focus will be on taking in bonded pairs. They are the ones that have the least chance of being saved and next to no chance of being saved together. Our program will not breed discriminate and since they will have their own cabin and small yard area it won't matter if they do not care for the company of other dogs.

The build-out of our first cabin is scheduled to be completed shortly. Upon completion the first bonded pair of seniors will be moving in.

Please consider becoming an Old Dog Inn sponsor. No senior dog whose only crime is losing their human should be made to lose their life terrified and without kindness in a cold dark concrete cell.

You can help today by clicking on the donate button at the bottom
of the home page: AnimalGuardianNetwork.org.
Celebrate National Adopt-A-Shelter-Dog Month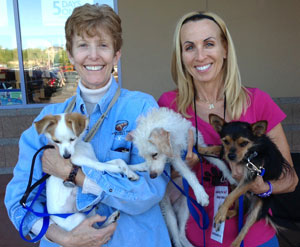 SCOTTSDALE – October is National Adopt-a-Shelter-Dog Month, so Foothills Animal Rescue (FAR) in north Scottsdale is encouraging Arizonans to "Make Adoption Your First Option"™. This awareness campaign, created by The American Society for the Prevention of Cruelty to Animals (ASPCA®), is being promoted through local shelters devoted to helping orphaned pets find their forever homes.

"Our community is very supportive of our efforts to rescue dogs and cats at risk of euthanasia," said Marlene Miles, executive director of Foothills Animal Rescue (FAR). "As more people get involved, either by adopting, volunteering or making donations, we hope to break last year's record of almost 450 adoptions."

FAR makes it easier for residents to find and fall in love with their new four-legged family members by holding weekend adoption events at local pet stores and by offering adoptions at its shelter, located just south of Pima and Pinnacle Peak.

"Pet overpopulation is a serious problem in Maricopa County," Miles said. "We have the second most crowded animal care system in the U.S., after Los Angeles. That's why we are committed to making a difference for deserving pets."

As a cage-free, non-profit shelter, FAR relies heavily on volunteers to socialize, exercise, foster and groom its animals. FAR also has a volunteer-run Resale Boutique, which generates the majority of its annual budget.

If you are interested in adopting a dog or cat, FAR's adoptable pets are featured at www.foothillsanimal.org.

Other ways to get involved: Volunteer at the shelter or Resale Boutique; Make a tax-deductible donation; Donate goods for resale; Donate much needed supplies, such as bleach, paper towels and detergent; Attend a FAR fundraising event, such as Whiskers & Wine, Nov. 21 at the Carefree Plaza.

FAR is located at 23030 N. Pima Road and is open every day but Monday. For more information: 480-488-9890.
Photo By Melanie Johnston
Volunteers Sue Johnson, left, and Cathy Tulka of Foothills Animal Rescue hold adoptable dogs during a recent adoption event outside Petsmart at the Promenade in north Scottsdale.
BY JENNA CADWALLADER | OCTOBER 16, 2013
A Dog Gone Mystery
Where is Peso?
In the wee hours of the night on September 27 I awoke to my Australian Sheppard barking as if he was trying to wake the whole neighborhood. I stumbled out of bed prepared to find him barking by my sliding glass door at my roommate as he often did upon his late returns home. What happened next was something I never imagined being faced with; my door was wide open, slid almost to capacity and my Australian was barking out in the driveway. A sense of dread filled the pit of my stomach. I checked for my roommate's vehicle and upon discovery it was not there I quickly dashed back into the house to grab my phone. It was then I first noticed Peso, my beloved miniature Dachshund, was nowhere to be seen. I frantically dialed my mother who lives next door for help while intermittently calling for Peso. I then called my close friends and neighbors for help finding my dog. Between the hours of 1 and 6 a.m. we searched, 4 people on foot and by vehicle for Peso. The night was very quiet without any of the somewhat typical howling and yipping of coyotes that can be heard in our area which was somewhat of a comfort. In the light of day, exhausted physically and mentally we paused in the search to call the Sheriff's office, regain composure, and drink some much needed coffee. At this point it was clear to us Peso had not just been outside wandering and someone had entered my home and upon being startled by my Australian had left in a hurry, most likely with Peso.

The time frame for which the intruder could have entered was small; I was awake lying in bed until just after midnight, I made my first call for help at 12:48 a.m. The back sliding glass door is big and heavy and has never been opened in the past by my Australian. It was not locked; I take responsibility for that completely. However, my family and I have spent nearly 20 years in our neighborhood and until September 27 we'd never felt anything but safe and secure.

I must compliment the Maricopa County Sheriff's Office for their quick response; the deputy took his time, went over the area and listened to all the details. Unfortunately there was not much he could do other than that. So we continue our ongoing search for answers. We've put up countless flyers and still know we have fallen short of covering the valley, which is so disheartening. Craigslist is combed throughout the day, and we've reached out via Facebook by starting the FIND Peso Allen page. The Humane Society and local pounds have been visited no less than twice a week since Peso's disappearance. Friends, family and complete strangers have reached out and donated their time helping spread the word to shelters, breeders and to their extended networks.

I know to some the theft a dog must seem like a pretty far fetched thing. A month ago I may have felt the same, but since beginning my search for Peso I've heard many heartbreaking stories regarding dog theft in the North Phoenix area, specifically Anthem, New River, and Desert Hills. All but one incident involved small breed canines and in each case no one had reported these thefts to the police. The victims each stated they felt nothing could be done so they didn't bother to report it to the authorities but instead have ventured down the same path as me in trying to "spread the word." I think this needs to change. Our police can only help us if they are apprised and reports are filed. If a television or iPad were stolen would we not report it? These items are easily replaced; our beloved animals are not. As a horse trainer I was blessed with getting to spend a lot of time with Peso each and every day. He would hang out in his barn kennel and was always the first to alert me if one of the horses was doing something wrong! There is a terrible void with him not being there to keep everyone in line at the barn.

My one hope at this point is that I can reach whoever has Peso now and if I can't reach them directly that a neighbor, friend, or family member will recognize Peso and alert them of the circumstances. Please keep your eyes open for my best friend and companion; he is a male miniature Dachshund just over one year of age, tri color (black, white, brown). At the time of his disappearance he had an extra canine (insidious) tooth on his upper jaw. He is mainly black but his stomach, chest, legs and tip of his tale are white. He has brown points. Peso still looks almost like a puppy and can be very timid. There is a $1000 reward for his return or for any information that leads to his return, NO QUESTIONS asked.