BY MARIELLE D. MARNE | OCTOBER 16, 2013
Beauty - Quality - Value. What you can expect from Arizona Quality Remodeling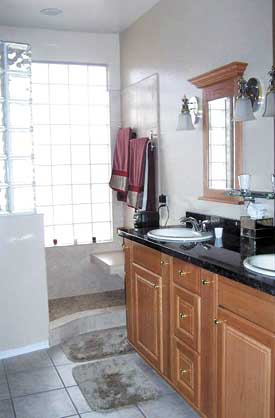 CAVE CREEK – Folks think nothing of changing hairstyles or following the latest fashion trend, but our houses, while maintained and comfortable, tend to remain testaments to the year they were purchased. Isn't it time for a facelift, update, remodel or simply adding a feature you've always wanted in your home?

If a resounding yes or even a maybe, phone Michael Coontz of Arizona Quality Remodeling, Inc. Since 1990, he's been transforming abodes and earning countless referrals from his clients, many calling him for additional work. Check out the glowing testimonials on www.azqualityremodeling.com. The cutest? From four-year-old Beatrice: "This is the best bath tub that I have been in in my whole life."

Why does Coontz enjoy such success? Because he takes the time to listen to and advise customers. He wants to know what you hope to gain and what you expect. And his integrity? Above reproach. Coontz will be honest if he feels your spending may outweigh your value. One individual wanted to remodel before selling and after assessing Coontz advised the homeowner to sell as is since the profit would be greater. Isn't that the type of master craftsman you want to work with?

You'll receive expert work from AZ Quality Remodeling, but Coontz says with whomever you work, be sure you're comfortable with them. After all, he reminds, these people will be in your home for perhaps weeks, when you're not even home. Have no concerns when working with Coontz as numerous clients are now lifetime friends, so you know he not only does remarkable remodels and unique upgrades but he's an all-around good guy!

AZ Quality Remodeling is licensed/bonded and will tackle residential as well as small commercial jobs, interior and outdoor living. To discuss how you may beautify your property, call Coontz at 480-236-2612.