BY LINDA BENTLEY | OCTOBER 9, 2013
Carefree/Cave Creek Municipal Court consolidation a go
Council voted unanimously to grant Cave Creek Museum a special use permit, finally making the museum a legal conforming property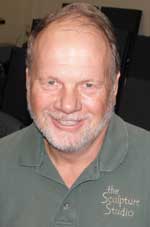 Cave Creek sculptor Mark Carroll was selected to construct two entrance monuments for the town. Council was divided between Carroll and another local artist Randy Galloway with Carroll edging Galloway out by one vote.




CAVE CREEK – During Monday night's council meeting, Mayor Vincent Francia announced he and a number of members of council would be attending the Scottsdale City Council meeting at 5 p.m. the following evening and said citizens probably all knew why.

During Call to the Public Ron Iverson complimented Nina Spitzer for coordinating volunteers to get the information center at Frontier Town reopened.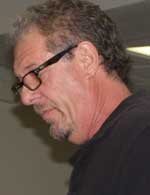 Bruce Arlen (r) spoke to tell council Morning Star Road, where he resides, suffered from severe degradation that he said was caused by "willful neglect by the former town manager."

Arlen said the town told him he would have to wait until after monsoon season to have it repaired and then thanked the town for fixing it as promised.

Everett Bell spoke to encourage anyone who hasn't attended the Thursday morning meetings at town hall to attend.

Interim Town Manager Rodney Glassman reminded everyone about the upcoming Taste of Cave Creek on Oct. 16 and 17.

Prior to council approving the consent agenda, Francia removed item three, an adjustment to Glassman's compensation from $112,000 to $123,230, and moved it to the general agenda.
He said the reason it was on the agenda was because that was what they agreed to and was brought to their attention by Sonoran News.

Bell spoke during public comment to say he was there the night when Glassman was hired and stated Vice Mayor Adam Trenk was specific when he described the contract amount of $112,000 and Glassman agreed to it.

"A contract is a contract is a contract is a contract," said Bell who suggested at the end of his contract, if Glassman meets all of his goals, council could decide to give him a bonus.

Janet Mohr agreed with Bell and said, "That's what was agreed upon and that's what it should be."

Scott Dahne said he agreed with Bell and $112,000 is the amount that was said.

Town Attorney Gary Birnbaum said his firm had no opinion one way or the other but just wanted to make sure the facts were available.

He said former Town Manager Usama Abujbarah's base compensation was $112,000 in 2006 until he received a cost of living adjustment in 2006 to $116,000, to $118,000 in 2007, to $123,000 in 2008, then back to $112,000 in 2009 when the economy went south and back up to $123,000 in 2012.

Dahne said the document signed and agreed to by the interim town manager was for $112,000.

David Smith, who served on the budget committee, said when they had discussion regarding raising employee salaries and when a decision was made for Glassman, it was not the base salary, but the same salary as the former town manager.

Councilman Mike Durkin moved to approve the adjustment with a second from Trenk, who said there was no question it was his intent to pay Glassman the same salary as Abujbarah but stated he was not going to support the adjustment and liked the idea of a bonus later.

Trenk said, "Both parties signed the agreement and there will be time to adjust it later."

Councilman Thomas McGuire said he supported the adjustment as did Councilman Reg Monachino, who said the intent was to match Abujbarah's salary.

Councilman Charles Spitzer said, "He signed it, we signed it … agreed to $112,000. But a contract is a contract."

Councilman Ernie Bunch said all the others who applied for the position were of the understanding the position would pay $112,000.

Francia said the conversation was the salary would be commensurate with the former town manager and cautioned, "Government doesn't give bonuses."

The motion passed by a vote of 4-3 with councilmen Spitzer, Trenk and Bunch dissenting.

Following Carefree's meeting earlier in the evening during which council unanimously approved an intergovernmental agreement (IGA) between Carefree and Cave Creek to consolidate the two municipal courts. Finance Director Robert Weddigen presented the details of the IGA.

He said Carefree would operate the court which would be housed in Cave Creek's council chambers, as it is presently, but would require tenant improvements of approximately $60,000 to be paid from the court enhancement fees.

Weddigen said Carefree's FY 2014 budget for court reflected $328,118 in gross expenditures and $115,000 in revenue for an operating loss of $213,118.

He said Cave Creek's FY 2014 court budget reflected gross expenditures of $400,300 and $66,000 in revenue for an operating loss of $334,300.

Carefree handles approximately 940 cases per year while Cave Creek handles slightly more at 1,000.

The IGA is for a 10-year period of time and Cave Creek would pay Carefree $146,196 per year for up to 1,000 cases and $78 per case over 1,000.

For the first 24 months of the agreement Cave Creek would pay an additional $2,666.66 per month as a transition fee making the cost per year for the first two years bringing the town's cost to $178,196.

Addressing questions about the large discrepancy in numbers, Glassman said the town's costs were based on the budget, not on actual, because, according to Glassman, the court is not fully staffed.

He also said the presiding judge will still need to approve the consolidation.

Bunch questioned where the figures came from showing such a large discrepancy in revenue between the two courts despite the case loads being similar.

Glassman said they came from the Administrative Office of the Court (AOC).

Carefree Mayor David Schwan told the town the IGA should result in cost savings to both towns.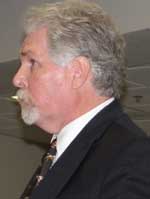 Attorney Frederick Davidson (r), a Cave Creek resident, told the town the consolidation was ill-conceived to save money or solve staffing problems.

He said the Cave Creek Court has been sustainable for 25 years and the budget of $400,300 "is clearly not based on history."

Suggesting it was not the time to do this, Davidson asked that the town vote against the IGA and carefully look at the numbers.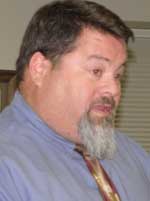 The town's Interim Presiding Judge Lawrence Scaringelli (l) said, "No one came to the court to ask us for numbers" and stated, "The numbers don't add up."

He said the budget was based on the previous magistrate, who wanted to have a full-time position with benefits but which he said the town doesn't need.

Scaringelli said he has been working with the AOC to correct some concerns, most of which he said were already corrected.

He said, "I want you to make a decision based on facts, not these numbers," and offered to resign.

Trenk asked Weddigen to address the discrepancies between his numbers and the ones Scaringelli passed out to council.

Weddigen said there were other costs associated with the court that were in other department budgets.

However, Scaringelli elaborated and said even if you add those costs back in it didn't add up.

He said, "Council should know the numbers before making a decision."

During public comment, Mohr spoke about how the two towns have such different ideologies and the marriage between the two seemed like a "scary" thing.

Smith said the issue came before the budget committee and the increased budget was due to staffing mandates.

Bell said he was bothered on the issue as with Glassman's salary, stating, "We didn't have the numbers right."

He asked council to take the time and listen to what citizens were bringing to their attention.

Arlen said when he first heard about combining the courts he thought it was a good idea, but in light of the magistrate being willing to resign over the disparity in numbers, council might want to look into it a little further.

Jay Williams cautioned council that a budget is not an actual expenditure.

Dahne said, "This needs to be pushed off. No decision needs to be made tonight."

Glassman said, "Based on the 2013/2014 budget, this IGA would provide savings to the town."

Town Attorney Fredda Bisman told council all the courts operate under the Arizona Supreme Court and the AOC is the administrative arm. She said the IGA has a 10-year term with provisions for renewing as well as for terminating.

Spitzer moved to approve the IGA and said, "I think it's a great idea."

McGuire seconded the motion and said, "We have had a period of unrest in our court."

Durkin said he had been engaged with the town manager on the issue and had faith in what was presented. He said the $178,000 per year was financially a good deal and he was "absolutely for this."

Monachino said they went over the numbers exhaustively during the budget committee.

Bunch said, "From the comments, it looks like we're going to pass this thing to find out what's in it."

He stated Carefree has the sheriff's office monitor motorcycle noise on weekends and writes citations. Bunch noted with the consolidated courts, bikers will be going to Cave Creek to deal with their tickets. He said it would cost the town revenue in lost business of people not wanting to come to Cave Creek.

Trenk said he had the complete opposite opinion and said it was a good opportunity to capitalize on the efficiencies of the court.

Francia said, "Council depends on staff to provide us with data. I do have some reservations about this agreement, but they are minor."

He also said it was a "wonderful opportunity" to mend relations with Carefree.

Council voted 6-1 to approve the IGA with Bunch, who voted "absolutely not," dissenting.

Council voted unanimously to approve a special use permit for the Cave Creek Museum, which will allow the museum to become a legally conforming property so it can apply for grants.

Bunch, who made the motion, said, "I'm excited to do this. I'm thrilled to be here tonight to support this."

Trenk, who seconded the motion, said it was long overdue.

By a vote of 4-3, council selected Mark Carroll, a local sculptor, as the artist to provide the town with signs at the southern and eastern entrances to Cave Creek at a cost not to exceed $20,000.

His design consists of a nine-foot tall stainless steel horse sculpture on top of a four-foot base.

Carroll's design was selected from the eight finalists, which a committee narrowed down from the 17 original applicants.

Council was divided between Carroll's work and that of Randy Galloway who received the other nomination.

In an effort to clean up some parts of the town ordinance by removing irrelevant text, council voted unanimously to remove language referencing planned area developments and planned unit developments from the subdivision ordinance, since they have been eliminated from the town's ordinances.

Glassman gave council an update on the timeline, selection and contract negotiations for the hiring of a permanent town manager.