OCTOBER 9, 2013
Healthcare credit card scheme results in arrests
Credit Card Information of 46,000 patients at risk – Arpaio recommends patients review their statements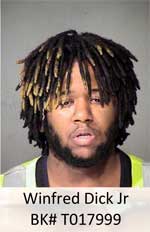 PHOENIX – Winfred Aurelious Dick, Jr., department and Brittany Davidson, both of Phoenix, have been arrested by Maricopa County Sheriff's detectives on charges related to identity theft. Both are suspected of stealing the credit card information of multiple victims which they gained access to at their place of employment.

The investigation began in late September when Sheriff's Captain Dave Letourneau noticed an erroneous charge on his credit card that was used to pay for someone else's traffic fine in Glendale City Court.

Sheriff's detectives immediately started an investigation, and determined that one of the suspects was stealing credit card information at her place of employment, a medical billing firm which services the Scottsdale Dermatology Clinic.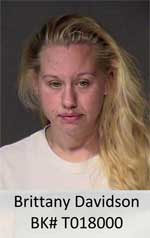 Sheriff's detectives working the fraud case served a search warrant on the home of Winfred Dick where both suspects reside and found evidence linking Winfred and Davidson to the Sheriff's Captain's theft. They also found methamphetamine in Winfred's vehicle wrapped up in court paperwork. Winfred is an employee at the Amazon shipping department.

Sheriff Arpaio said "In a bizarre twist we have a law enforcement official and a court involved in this investigation."

Sheriff's detectives arrested both and Davidson later admitted to detectives to stealing and using addresses and credit card numbers from patients of Scottsdale Dermatology and their associated offices elsewhere in the valley.

Sheriff's detectives ascertained that the two suspects had been accessing credit card information from untold numbers of patients from the dermatology clinics and were routinely using the cards for all kinds of purchases from pizza to tires and rims for their automobiles.
Arpaio says that so far, at least four victims have been identified but fears there may be many, many more victims.

"One of our top priorities is to continue to crack down on fraud and ID Theft violations in the workplace" says Arpaio.

The two suspects were arrested and booked into the 4th Avenue Jail on multiple counts of Aggravated Identity Theft, Computer Tampering, Fraudulent Use of a Credit Card, and Fraud Schemes. Winfred Dick is being held on a $5,000 bond, while Brittany Davidson is being held on a $3,500 bond.

Sheriff's detectives and the dermatology clinic are asking all patients to carefully review their bank and credit card statements. If you are a patient of this clinic and have received a fraudulent charge from January 1st, 2013 to present, please call the Maricopa County Sheriff's Office at 876-1011.