OCTOBER 9, 2013
Low-cost gelding clinic set for Arizona horse owners
A low cost gelding clinic will be hosted by Dreamchaser Horse Rescue and Dr. Laura Harris on Saturday, Oct. 26. Private horse owners in need of this service are invited to the event which will be held in Waddell, at 7220 N. 185th Avenue.

The cost to horse owners who bring their horses to the clinic will be only $75, compared to an average veterinary fee of approximately $150-300.

Dr. Laura Harris, of Scottsdale, and three other veterinarians are volunteering their veterinary services to the community, stressing the importance of reducing the future equine population in the face of the nation's ongoing economic woes.

Susan Thompson, of Dreamchaser adds: "With today's economic environment, horses are being abandoned, abused, taken to auctions, and going to slaughter more than ever before. Rescues are at all time highs, trying to manage on shoestrings. Breeding has got to stop, to allow horses to be absorbed into homes and families. Adopt, don't breed! We want to help people who know they need to geld their stallions – we are offering this opportunity at such a low rate to help those people in need.

To sign up for the gelding clinic, area horse owners can contact Dreamchaser at www.dreamchaserhorserescue.org and find a link which leads to all the necessary forms. For more information on the gelding program, please call 623-910-6530 or email susan@dreamchaserhorserescue.org.
Save the date for Whiskers and Wine!! Thursday, Nov. 21, 2013

Whiskers and Wine is back for it's second year and we look forward to welcoming back our many friends who are returning after escaping the summer heat.

We are moving! We are headed a little north for this years' extravaganza. Our new venue will still provide access to the cool autumn air as we will be hosting at the Carefree Plaza, right in the heart of downtown Carefree, home of the world's largest sundial!

Fun for all......
Taste fine cuisine from local restaurants and sample some fine wines that will help cleanse your palette for the next go around! The event also features a silent auction, 50/50 raffle and fine jazz music on the main stage while taking in a cool November night under the stars ... Tickets are just $25!!!

Tickets will be available soon for purchase at our shelter, Resale Boutique as well as online. Sponsorships are also available and local restaurants and wine cellars are encouraged to contact us if you would like to show off your cooking or wine pouring skills. It's a great opportunity to expand your clientele in this growing community.

For more information on how to get involved in what will certainly be a night to remember, please call 480-488-9890.

Thank you for all your support - the net proceeds from this event go to support the treatment of all shelter pets!!!
Kate Buchanan wins championship title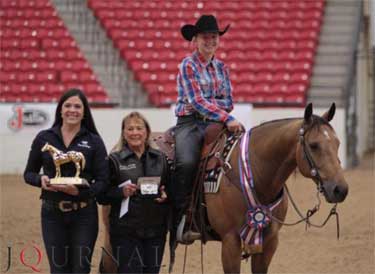 The American Quarter Horse Association, Las Vegas – Kate Buchanan of Scottsdale, Arizona, captured the Novice championship title in Reining at the 2013 SmartPak American Quarter Horse Association West Novice Championship Show in Las Vegas on Sunday, October 6, 2013.

Kate showed her American Quarter Horse, In It For The Chics, who is a 2001 buckskin gelding. In It For The Chics is sired by Smart Chic Olena and out of the mare BH Hollywoods Lady, and was bred by Linda Hamilton of Scottsdale, Arizona.

"I would like to thank my parents for their support and for taking me to the horse shows." Kate said. Kate's trainer, Matt Mills, owner of Matt Mills Reining Horses in Scottsdale, Arizona commented, "Kate was willing to put in all the hard work needed to be successful. I am very proud of her."

As champion Kate received a prize package that included a Montana Silversmiths belt buckle, a gold trophy, a neck wreath and top-10 patch.

Novice competitors must qualify for this event nationally or through an affiliate to compete in each of the classes representing halter, English and western disciplines. More than 1,450 entries competed for top honors at the SmartPak AQHA West Novice Championship. The show was held October 2-6 at South Point Arena & Equestrian Center in Las Vegas, Nevada.

Founded in 1940, the American Quarter Horse Association is the largest equine breed organization in the world. With headquarters in Amarillo, Texas, AQHA has a membership of more than 280,000 people in 86 countries and has registered more than five million horses in 95 countries.