OCTOBER 9, 2013
Community News Briefs

Annual Empty Bowls Lunch
Carefree Town Center on Friday, Oct. 18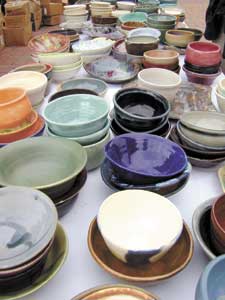 The 13th Annual Empty Bowls event, sponsored by the Sonoran Arts League, the Town of Carefree and the Carefree Resort and Conference Center, will be taking place on Friday, October 18, from 11 a.m. – 1:30 p.m. It will be at the Carefree Town Center and all proceeds from the event will benefit the Foothills Food Bank. Lunch prepared by Carefree Resort will be served in handmade ceramic or glass bowls. For a minimum donation of $15, guests can select their own unique bowl, made by members and friends of the Sonoran Arts League, and keep it as a lasting reminder of world hunger. A silent auction will run in conjunction with the lunch. You will have the opportunity to bid on artwork donated by local artists. Join us for a great lunch and the opportunity to help the Foothills Food Bank.
Legendary singer-songwriter Buffy Sainte-Marie to speak at Heard Museum
Native rights, education activist to deliver ASU lecture

WHAT: Buffy Sainte-Marie delivers the Simon Ortiz/Labriola Center Lecture on
Indigenous Land, Culture and Community
WHEN: Thursday, Oct. 10, 7 p.m.
WHERE: Steele Auditorium, Heard Museum, 2301 N. Central Ave., Phoenix
COST: Free and open to the public
INFO: Sainte-Marie (Cree) will speak about her career and her current role as a Native rights and education activist. Co-sponsored by Arizona State University.

Sainte-Marie will sign copies of her biography, It's My Way by Blair Stonehill, which will be available for sale at the event. Biographical information can be found at heard.org/events/festivalsevents

For more information, please call 602.252.8848 or visit heard.org.
Do you have an eBook waiting to be discovered?

Arizona authors are invited to submit their manuscripts to the 2014 ONEBOOKAZ Goes Digital eBook Writing Competition.

Winners will be featured in the statewide community read program ONEBOOKAZ. The three eBook submission categories are:
• For Kids: Illustrated picture book or beginning chapter book that would appeal to children between the ages of 3-12.
• For Teens: Literature that would appeal to the age group including 12-18 year olds.
• For Adults: Literature that would appeal to a general adult readership of 18 and up.

This pilot program will promote Arizonans as content creators, provide opportunities for self-expression, and promote digital literacy skills. Submissions will be accepted electronically between November 1 and November 30 at www.onebookaz.org.

For more information go to your public library or www.onebookaz.org.