OCTOBER 2, 2013
36th annual Soroptimist Spaghetti Dinner Oct. 8
The 36th annual Soroptimist Spaghetti Dinner will be Tuesday, Oct. 8 from 5-8:30 p.m. at Harold's in Cave Creek.
This is a family event with adult tickets at $15 and $7 for children. There will be raffle items, a silent auction and a live auction.
Money raised helps support service projects to benefit women and children.
For tickets or more info please contact Gail Shriner at 480-861-4188 or visit sisaguarofoothills.org.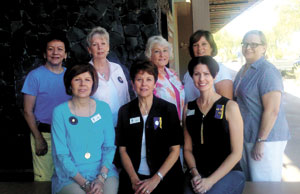 Courtesy Photo