BY MARIELLE D. MARNE | OCTOBER 2, 2013
Community icon The Horny Toad welcomes season with music, motorcycle, menu faves
CAVE CREEK – 'Tis the season to once again dine on the patio at The Horny Toad Restaurant & Bar. Stop in and partake of lunch or dinner and see why after almost 39 years The Horny Toad still warrants online praise such as: "A Gem in the Desert," "Food, service, atmosphere ... the 'Toad' has it all!" "What a fun place!" "Bring Your Appetite!" "Good food in a nice interior." "Liver and Onions!!" (About which the husband said his wife commented it was the best on the planet next to hers.)

Of course, the music is back! Listen to the sweet sounds of Hat Man Dan and the Creekers or enjoy the wild card, jam sessions of open mic night. If you have musical talent, "you can just show up and play," Jeff Price, managing partner, invited. See Facebook for dates/times.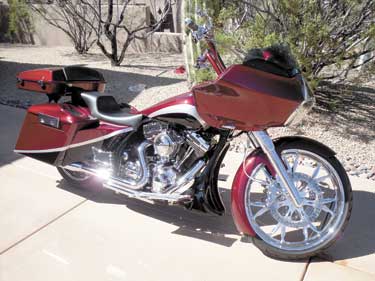 While Price is extremely proud of the heritage and success of his family's restaurant, he recently branched out from a venture in menus to motorcycles. Over eight months he redid a 2004 Harley Road King and made it into a "modern version of a bagger." The racy red "Horny Toad Bike" caught the attention of American Bagger Magazine and Price is featured in the Sept. 2013 issue. Check out the framed version of the article in the Toad's waiting area.

Ever a presence in the community, after all, The Horny Toad IS the oldest, original restaurant in Cave Creek, you'll find them at Taste of Cave Creek (Stagecoach Village, Oct. 16, 17), celebrating Wild West Days (Oct. 30-Nov. 3) and cheering the local team, the Cardinals, on the new lounge TV.

The Horny Toad staff is looking forward to welcoming back its old friends and new foodies. Price added, "We're holding down prices, we never charge an extra plate fee, and we're keeping the large portions so you can get your to-go bag and have the leftovers at home."

The Horny Toad is located at 6738 E. Cave Creek Rd. Call 480-488-9542 or go online at thehornytoad.com.