My View
BY DON SORCHYCH | SEPTEMBER 4, 2013

The mayor's fluff • Joint Cave Creek-Carefree court being studied
I received Mayor Vincent Francia's third mailed message in my mailbox on Aug. 31.

Clearly he is trying to convince the community that the council turnover and the lynching of Town Manager Usama Abujbarah is a good thing. Sometimes lies in politics work, which is one reason the slate was elected. Mostly they backfire and Francia's letters are lies that don't conform to what is going on in town hall. He also painted a rosy picture of town government and Interim Town Manager Rodney Glassman to Kiwanis and it didn't work there either.

I have known Francia for a long time, about twenty years. He is a practicing Buddhist and I think a devoted one. I am sure his employment at Turf Paradise and town hall collide with his religious beliefs. But I can't believe he really believes all is well at town hall.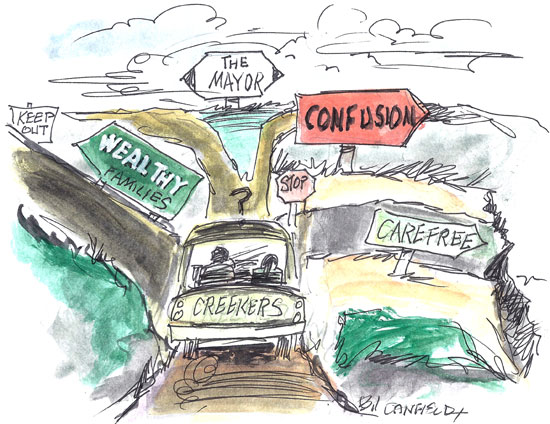 Glassman comes in mornings and shuts his door. Meetings with him are a sham; he fidgets, he takes calls, he doesn't communicate. When he receives a phone call his secretary must email him to inform him.

He had a series of free dinners planned. One big problem - that is illegal under state statutes.
It is bizarre, and where was the mayor?

When Glassman leaves, employees come out of hiding and share their experiences, or lack thereof, with their colleagues. Employees adore Usama and are there because of his professional treatment of them. That is all lost and Francia is unaware of the negative effect at town hall thanks to Adam Trenk's irrational treatment of Abujbarah. Speaking of bizarre, this is Twilight Zone stuff.

Now, or in the near future, the slate players in this drama will be faced with oaths and truth or consequences. I know of no one in town who isn't angry with the vicious treatment of Abujbarah and in a few months they will be able to vote their conscience on the matter.

The first hearing before Superior Court Judge Douglas Gerlach is Tuesday Sept. 3. An important issue in that hearing is the behavior of the town's law firm Dickinsen Wright, formerly Mariscal Weeks. I look for Dan Bonnett to show Dickinsen Wright is biased and shouldn't defend the case. I believe there are grounds for that action since the reply to Dan Bonnett's letter was incendiary, improper, threatening and with attempts to intimidate.

Our report on the court's actions will be online since our print deadline is Tuesday. We will send out a breaking news email blast to all of our subscribers.
Combined courts
There have been reports concerning slate Councilman Reg Monachino "negotiating" with Carefree about combining courts. First of all sending Monachino to negotiate is like sending a mouse to negotiate with a rattlesnake. Monachino was on the planning commission for a long time. The tradition was always to rotate the chairman position, yet Monachino was passed over by his peers. He only escaped the planning commission because he was voted onto council due to the fact there was no competition since the earlier competition quit.

Now we hear Glassman, Town Marshal Adam Stein, Town attorney Fredda Bisman and CFO Bob Weddigen are the "negotiators." One reason for the confusion is the slate's screams of transparency are a fable.

Note Bisman was placed as town attorney. She was previously fired both here and in Scottsdale.

The previous council gave consideration to combining courts but decided it would be a bad deal for Cave Creek. There are five full time employees at Carefree. Cave Creek has two and a half. The Carefree Court Administrator once worked for Cave Creek. She was fired, sued the town and collected about $40,000. Although she is an able court clerk, she is only one piece of the puzzle.

The Carefree judge is not suitable for various reasons. The prosecutor, Mark Iacavino was let go here. I am sure the slate wants him here since I once photographed Gerald Freeman stealing Ray Barnes' campaign signs. It was an open and shut case but Iacavino let him off by paying $90 for the signs he stole. Iacavino was also obstructive with MCSO and tried to increase arrests in both towns. Probably to give him something to do.

Let us not forget Carefree tried to steal our library (although Carefree good ole boys continue to run it). The theft was stopped by Town Manager Abujbarah who informed them the library lacked the zoning they needed to make the move.

They also tried to steal our museum but continue to populate the board of directors. Ask historian Beverly Brooks about earlier shenanigans.
Recalls
It is about three months before recalls can begin. So far I hear targets are the slate, all four. One win will change the council majority, but I suspect voters realize they bought into bogus information and they will be facing voters as a slate.

Francia's unusual letters make him a considered recall target too. The letters and pronouncements put him in the slate category and despite his election majorities there are at least a dozen highly competent candidates eyeing their election prospects. These possible candidates have deep pockets too, and are furious with slate activities.

As general manger of Turf Paradise, it is Francia's responsibility to sell the Turf Paradise property. Maybe his long fascination with people of wealth will bear fruit. Think about it, the wealthy families of Trenk and his wife, Glassman's wealthy family and a long list of others could be named.

If Francia's concerns are about saving himself from recall by slate backers he better remember who put him in office.