SEPTEMBER 4, 2013
Aspen regrowth, colors and safety after the Wallow Fire on the Apache-Sitgreaves National Forests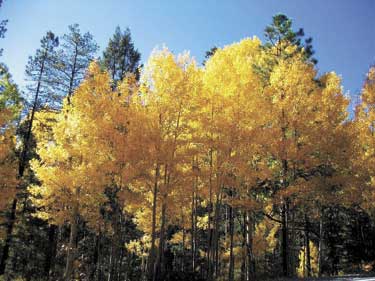 SPRINGERVILLE, AZ – There are roughly 76,500 acres of aspen on the Apache Sitgreaves National Forests (ASNFs) nestled throughout two million acres. Aspen in the White Mountains occurs within ponderosa pine, wet mixed conifer, dry mixed conifer and spruce/fir mixed forest types. It is a species that is adapted to fire and windthrow and without these disturbances conifers will replace the aspen.

As a result of the Wallow Fire in 2011, roughly 33 percent of the aspen overstory was eliminated. Now these areas are being replaced by new seedlings and saplings with open canopy characteristics. The acreage dominated by aspen is expected to substantially increase on the ASNFs due to the Wallow Fire. With the newfound abundance of aspen in the Wallow Fire area the colors of fall will be even more magnificent this year.

Tourists often travel hundreds of miles to view the beautiful glowing hues of aspen trees' colors. Typically in the West these colors are mixed in with the different color hues of our gray and red rocky cliffs, and blue skies. Aspen groves are typically made up of the same genetically cloned aspens where their root systems are all connected. When aspens' green leaves change to yellow, gold, orange and red, they will often change at the same time throughout the grove. Temperature and moisture are the main influences of changing leaves in the fall. Wish for a succession of warm, sunny days and cool, crisp nights for the most spectacular color displays.
For some stunning fall color pictures and more information on why leaves change color check out Region Three's Fall Colors website at www.fs.usda.gov/goto/r3/fallcolors or the National Fall Colors website at www.fs.fed.us/fallcolors/2012/index.shtml.

You can also get fall color updates in your area by calling the hotline # 1-800-354-4595.
When visiting the White Mountains and the Wallow Fire area this fall to see these wonderful colors, keep in mind there are also a lot of dead aspen out in the forest due to the fire. Fire damaged aspen are very weak and can uproot or break off. There are holes in the ground created by burned out and uprooting trees. Many trees are falling due to high winds and the abundant monsoon moisture.

Please be cautious when hiking, camping and hunting this fall in the Wallow Fire area. Look up, look down and look around.