AUGUST 21, 2013
300+ Youth Activists descend on D.C.
Young Americans for Liberty hosts its largest convention ever
ARLINGTON, Va. – Young conservatives and libertarians traveled from across the country to participate in Young Americans for Liberty's 5th Annual National Convention, making it the largest event in the organization's history. The Convention received widespread media coverage.

The 5th Annual YAL National Convention featured:
303 top youth leaders attended
From more than 200 college campuses
Representing 46 different states
4 days of intense activism training
More than 30 speakers, including Sens. Rand Paul, Mike Lee, Ted Cruz, Rep. Justin Amash, and Dr. Ron Paul.

One reporter at TownHall.com wrote, "As the Republican Party seeks to advance in the 2014 and 2016 elections, it should remember to actively include these young libertarians in the formation of their policy and campaigns—their motivation to return America to the 'land of the free' might just be the key to changing the political game."

Speaking on a roundtable discussion with Sens. Lee and Cruz, Sen. Rand Paul emphasized the importance of the pro-liberty message saying, "It's precisely the libertarian-type issues that grow the party."

"Young people aren't satisfied with the Republican Establishment in Washington. They're ready for real change," Jeff Frazee, Executive Director of YAL said. "The youth liberty movement is growing rapidly across the country—young people are ready to challenge the status quo," Frazee added.

In his keynote address, Dr. Ron Paul explained that a revolution of ideas needed to take place, and that it would begin among young people on college campuses.

"That is where the revolution is, it's on your campus. It's going to be a 'revolution of ideas,'" Paul stated.

"Millenials are drawn to the liberty movement. They've seen the exponential growth of government and loss of individual liberties, and they are ready to see change," Alyssa Farah, Director of Communications of YAL said.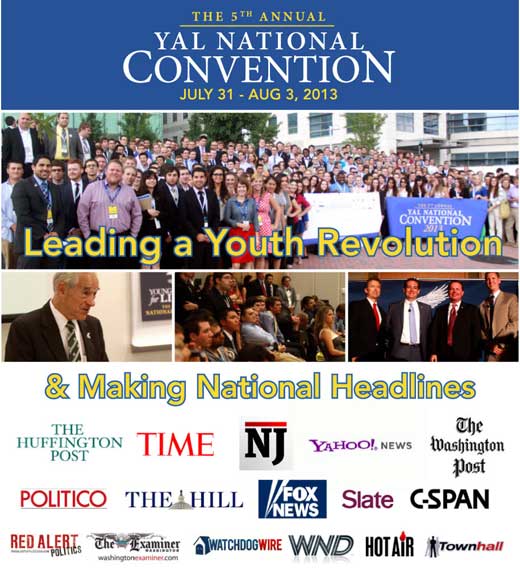 Young Americans for Liberty is the largest, most active, and fastest growing libertarian and conservative organization on America's college campuses, with a network of more than 400 chapters nationwide. YAL seeks to identify, educate, train, and mobilize students on the ideals of individual liberty and the U.S. Constitution. Learn more at www.YALiberty.org.