AUGUST 21, 2013
All Rural/Metro operations in Arizona named Premier EMS Agencies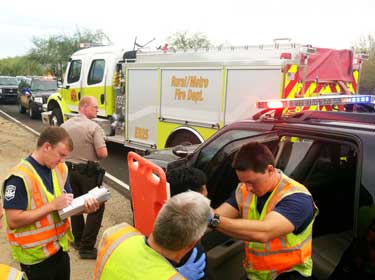 MESA – The Rural/Metro family of companies, Rural/Metro Fire Department, Southwest Ambulance and PMT Ambulance, serve more than 50 communities in Maricopa, Pima, Pinal, Yuma and Graham counties. All of these operations have been designated as Premier EMS Agencies by the Arizona Department of Health Services (ADHS).

The ADHS Premier EMS Agency Program is a quality improvement initiative for Arizona's EMS agencies who are dedicated to improving the care they provide to their patients. Premier agencies, including all of Rural/Metro's operations, have implemented quality assurance measures in four key areas:

Major Trauma
Acute Stroke
Myocardial infarction with ST segment elevation (STEMI)
Out of Hospital Cardiac Arrest

In addition to adopting the initiatives in patient care in these four key areas, Rural/Metro's family of operations submit critical data to help ADHS and EMS providers throughout Arizona use best practices and improve patient care and outcomes. Rural/Metro operations implemented Electronic Patient Care Reporting (ePCR) systems to easily submit patient data to the ADHS system. Likewise, Rural/Metro utilizes data submitted from other agencies to make quality improvement measures throughout their operations.

"Our employees and leadership work hard to not only meet, but exceed clinical excellence standards set by both the state and our internal medical directors," said Vice President John P. Karolzak. "We are proud that all of our agencies have reached the Premier EMS Agency level."

Rural/Metro is committed to clinical excellence not only in Arizona, but throughout its operations in 20 other states across the country. In September of 2012, Rural/Metro launched a first-of-its-kind pilot program of national prehospital clinical standards for Sudden Cardiac Arrest (SCA), STEMI and stroke that are aligned with Centers for Medicare and Medicaid Services (CMS) core measures for vascular disease.

In 2012, Rural/Metro also became the first Arizona agency with 100 percent of EMS providers trained in EPIC-TBI, the Arizona Department of Health Services' standards for the highest level of prehospital care for patients with traumatic brain injuries.

For more information about Rural/Metro operations in Arizona, visit www.ruralmetrosouthwest.com. For more information about ADHS Premier EMS Agency Program, visit www.azdhs.gov/PEAP.