BY LINDA BENTLEY | AUGUST 21, 2013
Bicyclists show up by the score to support bike lane
Wright selected to fill vacancy on planning commission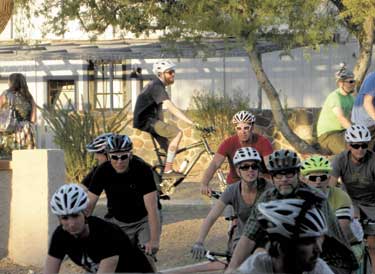 Bicyclist converged on town hall Monday night to show their support for two IGAs to obtain grants to design and eventually build bike lanes through town. Photo by Linda Bentley


CAVE CREEK – While town council was in an executive session with the town attorney to discuss Gerald Freeman's lawsuit against the town prior to Monday night's public meeting, scores of bicyclists poured into the parking lot.

The bicyclists were there to show their support for the town entering into two inter-governmental agreements; one with the Arizona Department of Transportation for design of a bike lane on Cave Creek Road from Carefree Highway to Pima Road, the second one was with the town of Carefree to obtain a federal grant to fund the preparation of construction documents for bike lanes.

The items were approved unanimously along with a host of other items on the consent agenda.
During Call to the Public, Janet Mohr, Cara Nichols, Kim Brennan and Mike Rigney each spoke in favor of the bike lane proposal.

Jim Peirce asked council to remove item 10 from the consent agenda so it could be discussed. Because council did not vote to remove it he made his comments during Call to the Public as well.

Peirce was referring to a memo from Utilities Manager Jessica Marlow requesting approval to donate the asbestos concrete (AC) pipe it has in storage to the community of Yarnell, since the water company there has infrastructure damage from the Yarnell Hill Fire and can use the pipe.

Otherwise, Marlow stated it is costly to dispose of AC pipe since it must be disposed of as a hazardous material. The town does not use AC pipe, which is no longer manufactured.
Peirce questioned why, if AC pipe is so hazardous, the town would be donating the pipe to another community.

However, AC pipe is not considered hazardous to use for the purpose for which it was designed.
Sarah Vannucci and Scott Dahne announced their new nonprofit organization and website with free banner ads through the end of the year. Vannucci said she didn't care about Obama's birth certificate or what goes on in Washington and letters from both sides of local issues would be posted so long as there was no name calling.

Jay Williams announced Cave Creek resident Darrin Conrad was struck and killed last week while riding his bicycle on Cave Creek Road at New River.

Williams said Conrad did not have insurance and stated an account had been set up at a local bank where people can make donations to help his family.

Interim Town Manager Rodney Glassman recognized Rural/Metro Fire Chief John Kraetz for 40 years of service to Cave Creek.

After council voted unanimously to approve the consent agenda, Mayor Vincent Francia signed the resolution for the bicycle path grant while the bicyclists were still present in the council chambers.

Councilman Mike Durkin had already asked to pull item 14, pertaining to a deed of gift to the town of 6 parcels within the Stagecoach Pass Estates project, from the consent agenda.

Planning Director Ian Cordwell explained the parcels were undevelopable tracts, consisting of ridges and washes within the subdivision which could be rezoned as open space.

Durkin asked what kind of liability the town would have by accepting the deed of gift.
Cordwell said there would not be any.

Councilman Ernie Bunch asked what kind of maintenance and expenses the parcels would require.

"I don't see any," replied Cordwell.

Councilman Charles Spitzer asked if the town would have tax liability.

Cordwell explained, as a municipality, the town doesn't pay taxes.

Durkin's motion to approve passed unanimously with Councilman Thomas McGuire commenting "It's a good acquisition for the town."


Cave Creek Unified School District Superintendent Debbi Burdick (r) gave a PowerPoint presentation about the district and it's A-rated schools, which consists of five elementary schools, one middle school and one high school.

She said enrollment is currently 5,600 and the district ranks number 5 out of Arizona's 247 school districts.

During public comment, Peirce quoted from reports about the school district indicating it "continues to be a district in decline" and mentioned the Goldwater Institute's winning lawsuit against the district for attempting to use bond money for purposes other than what voters approved.

Asserting voters have a lack of confidence in the district, Peirce said, "I submit Superintendent Burdick should resign as superintendent."

Glassman thanked Larry Wendt (Buffalo Chip) for providing dinner for Burdick and council.

George Pettit and David Swindell from the ASU School of Public Affairs provided council with information about the Cave Creek Assistance Project, after being approached by Glassman.

Pettit explained the school trains future city managers and proposed a project under which students would focus on a personnel inventory for the town and conduct a series of interviews with the town's elected leaders to focus on the vision and goals elected officials have for the town going into the future.

The elements derived from the interviews would be combined into a separate report for the new town manager.

According to their proposal, the major "finding" in the report will be the outline for a strategic planning retreat for the town's primary stakeholders to take place in early spring.

After explaining the scope of work for the first two items, Pettit said the strategic planning retreat would be an additional cost to the town.

Pettit asked council to approve the first two items and said they could negotiate the third.
Vice Mayor Adam Trenk's motion to approve passed unanimously.

Francia thanked Glassman and said, "We're all going to benefit."

Council voted unanimously to enter into a contract with Tischler Bise to conduct a development fee study in an amount not to exceed $68,080.

The representative from Tischler Bise advised council development fees cover the work they do, so there is no out-of-pocket expense to perform the study, which, by statute must be updated by January 2014.

Responding to questions from council, he said development fees could be used to build new trails but could not be used for operations and maintenance.

Trenk said he was glad to see the proposal came in about $32,000 under budget.

The next item, a resolution to review some of the ordinances on the books that could be changed or eliminated was introduced by Bunch and was passed by council unanimously.

During public comment, Dahne said it was a good idea to review policies from time to time.

Bunch said, "Like the mayor always said, we only need two ordinances – respect your neighbor and respect the desert."

He said, "We have too many laws. I think we need to get rid of some."

Trenk read paragraph number four in the resolution, which invited citizens to make suggestions, and said, "We're committed to doing this," as he thanked Bunch and Glassman for bringing it forward.

Council voted unanimously to repeal a section of town code pertaining to adult businesses, which, as explained by Carrie Dyrek, was no longer relevant.

Dyrek said the legislature had the state take on the requirement for licensing massage therapists so the town no longer had that responsibility.

She assured council repeal of the ordinance didn't remove any of the other regulations pertaining to adult businesses, only the portion that is now obsolete.

Councilman Reg Monachino said he was generally in support of the repeal but urged using caution going forward.

Council voted unanimously in favor of a special use permit for Foothills Academy to build a school on Carefree Highway between 51st and 52nd streets.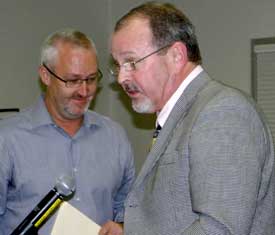 Architect Phil Weddle and board member Ted Ferris represented the applicant Don Senneville, who was also present.

After Weddle explained the traffic engineers who studied five intersections concluded the traffic would have no impact, Durkin said he found it hard to believe there would be zero impact.

Weddle explained it wasn't zero impact but rather traffic would be operating at the same level of service (B) before and after.

Francia expressed concern over the fact a deceleration lane was not being required and said he didn't see how safety could be addressed without one.

Weddle stated it was a very thorough traffic study and said, "It was as if we were building a Walmart."

Everett Bell spoke during public comment and while he supported the project he questioned the location.

Bell suggested the school would be better situated at the corner of 48th Street, across from Estado de Cholla, rather than a parcel better suited for commercial development. He also recommended council require the developer to obtain a bond so if it becomes necessary the developer pays for a traffic signal at the intersection and not the citizens.

According to Wes Cooper, who spoke in support of the project, the owner of the parcel at 48th Street was willing to sell but placed a $1.9 million price tag on it.

Although council voted to grant the SUP, Durkin said he will be concerned about traffic and costs when the site plan comes forward.

Bunch said the project was not his first choice for that property.

Francia said unless the traffic is addressed when the site plan comes forward he wouldn't be able to support it.

Council voted unanimously to approve the site plan for an 8,500 square foot commercial building on the less-than-one-acre out-lot at the Walmart site.

Applicant Peter Nelson said all the traffic impacts had already been addressed with the Walmart application.

Council also approved negotiating a contract not to exceed $200,000 with WaterWorks Engineering to update both the water and sewer master plans.

Glassman explained in order to do a development fee study, the town must first have a water and sewer master plan in place.

Utilities Manager Jessica Marlow said the town has sewer master plan but it was developed in 2006 and things have changed since then. She said the town also has a water master plan that is also outdated.

The firm was selected by the water advisory committee, which committee members stated was the only engineering firm they reviewed that could perform the scope of work required and meet the town's deadlines.

Council voted unanimously to have the town attorney continue negotiations to settle a lawsuit against the town brought by Gerald Freeman, who sued the town to oppose a horse trail on a neighboring property owner's land.

During public comment, Glenn Fahringer said connecting the horse trail between the east and west sides of town has been an important part of the town's agenda and stated he hopes the last part connecting the trails to the west gets completed.

According to Town Attorney Fredda Bisman, any proposed settlement will need to be brought back to council for approval.

By a vote of 6-1, with Trenk dissenting, council approved repealing an ordinance that restricted commercial buildings in Stagecoach Village to a single story, despite being allowed to build 25 feet in height.

Bunch stated all they were doing was leveling the playing field for everyone in the commercial core.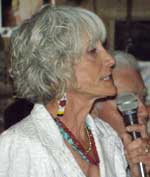 Jim Miller, Mike Russell, Eileen Wright (l), Everett Bell and Diane Grillo submitted resumes and letters of interest to fill the vacancy on the planning commission caused by Monachino's election to council.

All but Grillo were present.

Monachino nominated Wright, Bunch nominated Bell, Durkin nominated Miller and Trenk nominated Russell, "So he won't feel left out."

Francia called for a vote for Wright, who was appointed to the commission by a vote of 6-1 with McGuire dissenting.