AUGUST 21, 2013
Meet this week's Falcon Football seniors …
Nate Covert and Cash Hasse
In late June, Assistant Coach Jim Marando and I presented to Head Coach Greg Davis our schedule for profiling the 30 seniors who were signed up to play football. Twenty-seven of those seniors completed and returned their profile questionnaires; two have left the team, and one has declined to be profiled – certainly his right. But 27 out of 30 equals 90 percent … a high percentage that speaks well for the seniors who will lead by example the 2013 Falcons.

Pre season football practice isn't a whole lot of fun. It's been a long, hot summer that has required mental sticking power and physical grit. I didn't have either when I was a high school senior, so I admire not only the seniors but also every player who has toughed it out – especially this week's two profilees, offensive left tackle Nate Covert and defensive end Cash Hasse. By season's end, both of these Falcons will have earned their third Varsity Football letter. Congratulations, guys!

The monotony of practice finally gives way tomorrow, when the Falcons travel to Maryvale for a controlled scrimmage. They are coming off last Friday's Blue vs. White intra-squad match-up, which Coach Davis described as "our best in three years." Next week, Coach Davis will select his squad's captains – and name a starting quarterback for the August 30 home opener against the Raymond Kellis Cougars.

Readers and Falcon fans, I don't believe in sports jinxes – not even the familiar one about athletes or teams appearing on the cover of Sports Illustrated. And so it is that I remind all you Football Falcon "historians" out there that the 2006 State Champions opened their perfect 15-0 season by smashing Kellis, 55-6, at Falcon Stadium, then trekking to Willow Canyon, where Kyle Watkins ('07) ran back the opening kickoff 80 yards for the touchdown that sparked the Falcons to a decisive 35-14 win. Cactus Shadows has played neither Kellis nor Willow Canyon since those 2006 victories.

Is opening this season back-to-back against Kellis and Willow Canyon a good omen for these 2013 Falcons? Could be, I'll cross my fingers and hope so.
~ Pete Mohr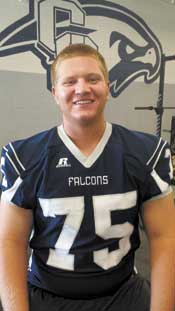 #75 Nate Covert – Offensive Left Tackle – 6'3", 255 lbs.
What does it mean to Nathaniel Covert to be a Football Falcon? His one-word answer says it all: "Everything." He continues, "Football is a very big part of my life. This season, I want to go hard on every play and make some huge blocks!" Packing 255 lbs. on his 6'3" frame, Nate is all but guaranteed to do just that. This two-year letterman has, in Coach Davis' words, "Become a vocal leader who I expect to captain the 'O' line." Offensive left tackle is the most critical position in the Falcons' pass protection scheme. Nate has already proved he's up to that challenge. Born June 14, 1996 in Gilbert, Nate is the son of Creekers Mike and Liz Covert. He's presently undecided as to his college preference, but he definately intends to play at the next level. Nate credits "all my O-line coaches" as most influencing his football career. Nate, you are a credit to Falcon Football. Good luck this season!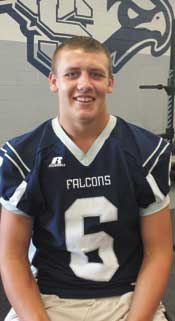 #6 Cash Hasse – Defensive End – 6'3", 205 lbs.
"A motivated beast who's willing to put in the work to play my best." That's how "Cash Money" describes his motivation as a Football Falcon. He's been playing organized football since age five, yet another valuable CCYF "alumnus." He's always been on the defensive side of the ball, either as a D-end or outside linebacker. Coach Davis praises Cash as "an experienced, physical leader by example." Born August 22, 1995 in Phoenix, Cash is the son of Creekers Kevin and Suzy Hasse. He thanks "my parents, family, friends and my Youth Football coaches" for most influencing his football. After a winning season, he may "walk on" at ASU next fall. He's been "Cash Money" for so long he can't remember who gave him that nickname! All set to earn his third Varsity letter, I predict Cash will be "money in the bank" for the Falcon defense.