AUGUST 21, 2013
Ciara Petronzio's Pennies for Pups partners with RAGofAZ
Rescue A Golden of Arizona's Links of Gold Golf Tournament will be held Saturday, September 14 at Troon North Golf Club, 10320 E. Dynamite Blvd in Scottsdale. This is the signature event for RAGofAZ, a state-wide Golden Retriever rescue, which celebrates its 15th anniversary in October.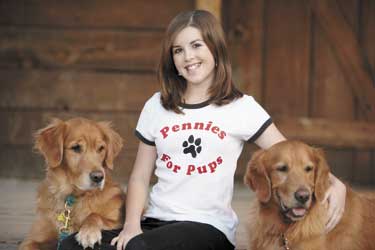 For the Golf Tournament, Rescue A Golden of Arizona partners with "Pennies for Pups" founded by Ciara Petronzio, a 16 year old member of RAGofAZ. The tournament begins with a shot-gun start at 1:45 and is followed by "Yappy Hour" at 5:30 with dinner and raffle at 6:30. Many rescued Goldens will available to meet and greet the guests.

RAGofAZ is a 501(C)(3) non-profit, shelterless, all volunteer organization dedicated to the rescue, evaluation and placement of Golden Retrievers who lost their homes through no fault of their own. Its volunteers receive no compensation other than the deep satisfaction of knowing that they are saving the lives of these dogs that are uniquely intuitive, patient, eager to please, hilarious clowns, and mostly dear friends. Rescue A Golden of Arizona turns away no dog for medical reasons resulting in an average of $600 per dog in veterinary expenses. In addition, they spend considerable time and resources educating the general public about the breed, responsible dog ownership and what rescue is all about.

Registration is available on-line at www.golden-retriever.org for individual golfers for $145 and foursomes at $500. Dinner only is available for $35 per person and will be followed by a fabulous raffle featuring golf gift certificates, vacation get-aways, concerts and gift baskets for all ages.

To learn more about RAGofAZ – volunteer opportunities, available Goldens and success stories – visit www.golden-retriever.org.