My View
BY DON SORCHYCH | AUGUST 14, 2013

Haldiman wrong twice!

MCSO mistakes
I have called Arizona Republic "reporter" Phil Haldiman a stooge for Cave Creek Vice Mayor Adam Trenk. No?

Why then did the Republic donate a full page to T.C. Thorstensen's Hogs and Horses? Haldiman must know, but didn't state, that his leader Adam Trenk is the statutory agent for this enterprise as well as Thorstensen's family trust.

Actually I am pleased Haldiman is here because he makes a laughing stock of his employer who has maybe a fifth of the circulation of Sonoran News in the six zip codes we mail to.
His most recent attempt is wrong and wrong. On August 9, on page four of the Scottsdale Republic he headlined, "Unpaid fees lands(sic) Sonoran News publisher back in court." That is a downright lie.

The amount of $24,584.28 was paid on August 6, three days earlier. Tell me he didn't know. That is what happens when the dark siders of Cave Creek politics are his sources instead of the Internet where the facts were presented. The proposed debtor hearing was called off by Jack Wilenchik, the attorney for FDS Financial Services, the firm to whom Gerald Freeman sold the court ordered judgment. It would have been paid earlier if the lawyers had answered our inquiries about the actual amount they expected. Haldiman lied.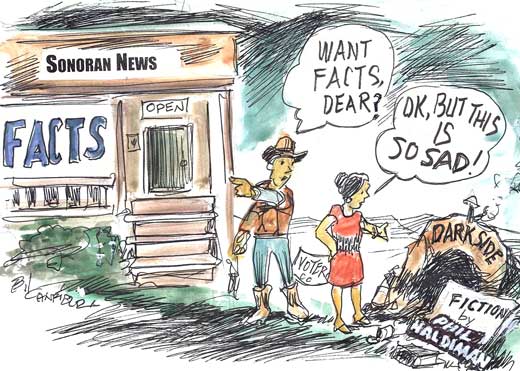 Haldiman wrote, "Sorchych has not filed a response in court to the defamation claim." Wrong again!

The attorney Sonoran News hired is the same attorney who won the last two lawsuits against us. In both cases he not only won but was awarded attorney's fees in both cases and sanctions against the lawyer in the second one. Our attorney responded with a letter to Freeman's and Gil Lopez's attorney. Steve Mahaffy's response asked for more time. Town records prove what we wrote about Gilbert Lopez is true.

So if you are a rare reader of Scottsdale Republic and want to read fiction, read Haldiman.
Two losses
Everyone who reads Sonoran News knows the gang of four fired Town Manager Usama Abujbarah who was a highly valued employee for 17 years and town manager for 14 years. That only happened because three council members chose to resign after the primary vote gave them a chance in the general election. But that unfortunate history allowed Trenkster to become vice mayor. Maybe because Mayor Vincent Francia has a full time job, Trenkster was happy to fill the vacuum. He led the charge and his bobble heads went with him to fire the best town manager our town ever had.

We believe two things: Abujabarah will file suit and there will be a recall election in December. Those are the reasons the dark side is trying to put us out of business. We, unlike the dark side, give Cave Creek voters true news and many editorial comments. You can believe we will give you timely information on both subjects.

The other loss is now retired MCSO Captain Rich Burden. Rich came here as a lieutenant and was promoted to captain after three years of waiting, having passed all the requisite tests. Shari Jo and I attended the promotion ceremonies and learned a lot about his dedicated service record.

Burden became known as an excellent commander and we have heard that from citizens as well as MCSO employees. Several months ago we heard he was 'in trouble" all the way to the top. In this case the top wasn't Joe Arpaio, but second from the top, Chief Deputy Jerry Sheridan. Sheridan gave that message to sources we know. Sheridan is currently up for a raise to $182,145 by the County Board of Supervisors. Apparently Arpaio wants to give him four percent more, "because he deserves it."

When I arrived in Cave Creek in the early 1990s, Sheridan was our local commander and I thought he was a good one. He was very political though and even back then it was clear he was a favorite of Arpaio.

Burden knew he was being investigated and was forced to take a polygraph test, which I am told he passed.

Two issues confronted Burden. In one case deputies got too friendly with a man who tints windows. He kept cars overnight and was caught wearing deputy's clothes and making illegal stops. He was caught and arrested.

The other case involved a deputy calling Burden to report a lakeside event where a DPS officer was being cited for a DUI. Burden says he was merely told about it and told the deputy to handle it.

Then things get murky and we will do a document search. It is rumored the DPS officer complained to Chief of Administration Scott Freeman and that resulted in Burden's proposed demotion to lieutenant. Burden was told on a Friday he would be demoted. He resigned two days later on Sunday, so he retired as an MCSO captain. It was Sheridan and Freeman who made the decision. Deputy Chief Dave Trombi said he received the action only ten minutes before Burden learned of the decision.

I asked Sheriff Arpaio why Burden was demoted and he said that was what "his people" wanted. I assume he meant Sheridan and Freeman. Arpaio maintained Burden failed probation. Apparently probation is a convenient policy that allows the people upstairs to use their political hatchets.

Before he retired and left for a long delayed European vacation Chief Deputy Brain Sands told me he would not work for the three in charge. I assume he meant Sheridan, Freeman and Trombi. Sands is another real loss, a very honest, outspoken and competent officer.

I remain in Arpaio's corner. I asked him about his shoulder injury and whether he was going to remain as sheriff. He said he will not only remain as sheriff, he will be running when the next election comes around. He said he is doing fine in rehab.

Where in this state is there a sheriff candidate who fights illegal immigration, is a staunch conservative and has seriously investigated Obama?

I do wish he wouldn't listen to "his people" about something as serious as Burden's career. We miss him.