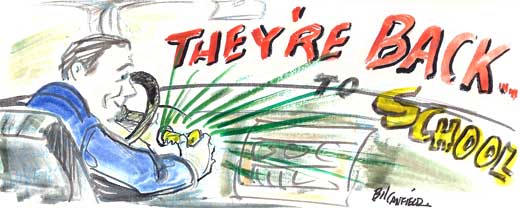 These colors

The Chief Executive of the United States of America, who perhaps has a problem with the Zimmerman verdict or perhaps he is just a wimp, shows his opposition to stand your ground by evacuating U.S. Embassy's because of a rumored threat in Yemen. An embassy is American soil to be defended and should be fortified accordingly. If he won't defend an embassy, why should we believe he will defend our border?

Apparently, under the Obama administration, these colors do run. Pathetic!

Randy Edwards
Cave Creek

Foreign policy experts are stumped
As the Obama Administration closes embassies across the world in response to an al Qaeda threat even while it sends weapons to al Qaeda-dominated Syrian militias, one respected observer made up a new term to describe American actions.
He literally called them "crazy pants."

But our policy of arming jihadists is worse than "crazy"; it's foolish and dangerous for the United States and for Israel.

The Obama Administration needs to understand that al Qaeda's jihad is a movement, a movement that stretches across the Middle East; and if you feed part of it, you feed the whole.

Now is the time to speak out. Our common-sense petition to stop American aid for terrorists is gaining tens of thousands of signatures per day. Add your name today: http://aclj.org/war-on-terror/no-american-weapons-for-jihad.
Jay Sekulow
ACLJ Chief Counsel
How we're prepping for Obamacare
Dear Arizona Taxpayer,

As we head into the fall, we are continuing to play a leading role in the effort to turn America back onto a path to economic prosperity.

This month, we're beginning a major statewide educational tour as we attempt to energize our activists for the rest of the year. We recently kicked the tour off on the campus of Northern Arizona University in Flagstaff—and are excited to continue working with campus conservatives in Tempe and Tucson as well.

Students and others will view the healthcare documentary Sick and Sicker and engage in discussions with policy experts from think tanks like Goldwater Institute and Cato Institute, as well as the local medical community. They will learn about the poor results garnered from the Canadian single-payer healthcare system, and debate solutions to help America avoid a similar situation.

In addition to these activist-driven events, Americans for Prosperity will also be making an effort to connect with liberty-minded members of the business community. We plan to host several forums with business leaders in Phoenix and Tucson in order to discuss concerns they have about coming Obamacare regulations and what they can do to blunt the effects they will have.

We are excited to work with Arizona's job creators to find solutions to the damage President Obama's policies will do to their businesses and those working for them!

Perhaps our biggest endeavor for the rest of 2013 will be mobilizing and training our activists for the major, nationwide field operations Americans for Prosperity will be engaging in next year. Our organization will be active across the country, as we try to engage liberty-minded citizens and encourage them to vote.

AFP activists use the latest tablet computer technology to efficiently navigate key neighborhoods and maximize their face-to-face contact with members of their community. The surveys they conduct will be fed immediately into our national database, which will allow state directors like Arizona's Tom Jenney to craft effective grassroots strategy on an up-to-the-minute basis. Once liberty-minded voters are identified, we will touch base with them again to ensure their voices are heard at the ballot box.

This campaign is key to the free-market movement's success—in 2012, we were greatly outnumbered by the left's ground operation, which had been building since 2007. This time, we will close the gap and engage more activists in our communities for longer periods of time—and we will eclipse the other side at their own game.

The work we are doing this year is important and will help drive the overall free-market movement, but we still need your help!

Everything we do in the grassroots community is made possible by the generous support of freedom-loving Arizonans such as yourself. We need you to stand with us to ensure we are able to continue mobilizing activists and putting the pressure on those in power.

An investment of even $10, $25, $50, or $100—or any amount you are able—would go a long way ay towards helping Americans for Prosperity-Arizona build on our success this year and head into 2014 with a lot of steam.

I hope you'll stand with us as we try to win America back for liberty!

Many thanks,

Bill Fathauer
State Development Officer
Americans for Prosperity-Arizona
Friendly Fire: Vietnam
Friendly fire, what is it? Friendly fire in combat operations occurs due to wrong misdirection, and inaccurate errors in identifying between friendly and enemy forces. Incidences have occurred by use of all weapon types in war time. Often the incident of friendly fire is investigated by higher authority. Attempts are made to better identify between friendly and enemy troops. The grim outcome of friendly fire ranges between injury, and death unintentionally.

Weapons used in war time come in many forms other then conventional.

One such weapon is chemical, the most recognizable chemical weapon used was during the Vietnam war, tactical herbicides. Tactical herbicides were used to defoliate the forests and jungles affording the enemy less places to hide and lessen food supply. The most common was Agent Orange (Dioxin) the most deadly of the so called rainbow colors of herbicides.

The Department of Veterans Affairs has concluded presumptive exposure to agent orange can cause health hazards that may be crippling and life threatening. The Institute of Medicine reports agent orange can cause serious diseases. This undermines previous statements by the Department of Defense stating agent orange is relatively nontoxic to man, a deliberate conclusion, therefore took no precautions to prevent exposure as stated by the US Comptroller General, November 1979.

With that said, tactical herbicides a chemical weapon was authorized and deliberately used causing illness and death amongst our troops on land, at sea and air. This is not friendly fire, but deliberate fire by chemical weapons use engulfing our troops.

Our government should be held responsible and accountable for its actions.

Our Congress needs to recognize this responsible accountable action passing a non-loophole law affording care and compensation to all Vietnam veterans who are infected with agent orange dioxin poisoning.
John J. Bury,
US Navy, retired, Vietnam War veteran
Media, Pennsylvania
Navy veterans sue DVA Secretary
In a suit filed in federal court in Washington DC, two veterans organizations have filed suit against the Secretary of Veterans Affairs, Eric Shinseki, for failing to provide benefits to a group of Vietnam War veterans who served aboard ship off the coast of Vietnam. Over a hundred thousand of these Blue Water veterans were exposed to Agent Orange through their drinking water while providing gunfire support, air support and logistic support in the territorial seas off the coast of the republic of Vietnam. The Blue Water Navy Vietnam Veterans Association, (BWNVVA) a not for profit corporation chartered to advance the cause of the Blue Water Navy veterans, along with Military-Veterans Advocacy (MVA) another non-profit who advocated for veterans, filed the 32 page suit charging that the Secretary ignored scientific evidence which showed the presence of Agent Orange in the waters off shore as well as solid proof that the shipboard distillation process, which converted saltwater to potable drinking water, enriched the effect of the dioxin. Attorney John Wells, who brought the suit, is a retired Navy Commander and served as Chief Engineer on three Navy ships.

"I am very familiar with the naval operations at the time and the distillation equipment that enriched the dioxin." Wells said. "We have taken this evidence to two separate committees of the Institute of Medicine, and they agree that the distillation process, based on Henry's law of thermodynamics, would have co-distilled and enriched the dioxin.

This confirmed an earlier study by the University of Queensland." Wells is the Executive Director of MVA and previously serves as Director of Legal and Legislative Affairs for the BWNVVA. After retiring as a surface warfare officer he opened a law practice in Slidell Louisiana with emphasis on military and veterans law. John Paul Rossie, a retired Information Technology expert, served in the Navy off the coast of Vietnam. Rossie has served the BWNVVA since its inception as its Executive Director. He said as follows: "Sea service personnel operating in the war zone were given a straight shot of Agent Orange into their drinking water.
They drank it, showered in it and had their food prepared with it," Rossie continued, "but the VA has just ignored them. Now they are dying and leaving their families without the VA compensation that they earned." Prior to 2002, the Blue Water Navy veterans were granted the presumption of exposure. This was rescinded based on a 1997 VA General Counsel's opinion that concluded the words "service in the Republic of Vietnam" meant "service in-country." Australia, an American ally in Vietnam, has been granting benefits to their naval personnel since 2003.

The Blue Water Navy veterans actually won a restoration in benefits from the Court of Appeals for Veterans Claims in 2006 but that decision was set aside on administrative law grounds by the United States Court for the Federal Circuit in 2008. "This suit covers different grounds," Wells noted. "We are not attacking the lack of rulemaking as was the case in the previous suit, but we are showing that the Secretary's decision was arbitrary and capricious, unsupported by substantial evidence and in violation of existing law. The VA currently grants the presumption of exposure for ships that steamed into inland waterways that they have arbitrarily defined as rivers. What the VA either did not know or intentionally ignored, is that the 1958 Convention on the Territorial Seas and the Contiguous Zone, which the United States has signed and ratified, includes bays and harbors as inland waterways. Additionally the treaty makes the territorial seas part of the sovereign territory of the nation.

"I sat down with John Gingrich, who at the time was the Chief of Staff for the VA and showed him a picture of Da Nang Harbor, which is surrounded on three sides by land. He thought that the harbor was covered. I had to show him his own manual which specifically excepted the harbors. He agreed that the VA's position did not make sense and agreed to re-visit it. Instead last December, the VA published a Notice saying that they would not change their policy. The VA did not return the telephone calls I made to them after the notice was published."

The plight of the Blue Water Navy veterans has support in Congress.

Presently 127 members of the House (including Rep Mike Michaud (D-ME) ranking member of the Veterans Affairs Committee) are co-sponsoring a bill by Rep. Chris Gibson(R-NY) to restore the presumption of exposure to those who served in the territorial seas of the Republic of Vietnam. "We are heartened by the bi-partisan support of this bill," Rossie said, "but despite the support, it is still stalled in Committee. So while we are continuing to gather support in Congress, we felt the need to also move forward in court. Our people are dropping like flies and we need to try any avenue we can to obtain these benefits."
Susan Belanger
Gansevoort, New York
Solar cash cow
I don't understand why APS wants to mess with a solar cash cow by implementing new charges on solar customers, like me, that essentially produce FREE energy for them. Well not actually free! They pay me .03 cents/kw and turn around and sell it for .18 cents/kw on peak. A 600 percent mark up! And by the way I am not getting a free ride on their grid.

Currently over 25 percent ($70) of my bill goes to pay for "infrastructure."

They don't pay me a penny for the infrastructure i have on my roof. Maybe I'll just take my panels down so they can build a new power plant.

How much will that cost Arizonans? Or make them pay a 600 percent surcharge on the energy I produce.

Oh wait. I forgot, I'm not a monopoly.
Best Regards,
James Hartman
Email
Goldwater Institute responds to Sen. Dick Durbin's inquiry on relationship to ALEC
Last week, U.S. Sen Dick Durbin (D-Ill) contacted the Goldwater Institute to inquire about the private organization's relationship to the American Legislative Exchange Council--most notably, whether the Institute has supported ALEC in the past or endorsed the group's "Stand Your Ground" model legislation. The following is a response by Goldwater Institute senior staff to Sen Durbin's office, and this letter (pasted below) was sent to the office of Sen Durbin.

August 9, 2013

ATTN: THE OFFICES OF SENATOR RICHARD DURBIN

We are in receipt of your letter dated August 6, 2013 requesting information about the Goldwater Institute's relationship with the American Legislative Exchange Council and whether or not we support the "Stand Your Ground" legislation adopted as a model bill by that group.

"Have You No Sense of Decency?"

That was the question posed by attorney Joseph Welch that historians credit with ending the Senator Joseph McCarthy's witch-hunt.

It is the same question we pose to your office today in response to your effort to intimidate us for daring to associate with the free market, limited government organization known as the
American Legislative Exchange Council.

Simply put, especially in the wake of IRS intimidation and harassment of conservative organizations, your inquisition is an outrage.

We refuse to answer whether we are or ever have been a supporter of ALEC or its model legislation. We refuse to answer not because we disavow ALEC—far from it. We refuse to answer because as free Americans, that is our right.

Your attempt to silence your fellow Americans through threats and intimidation because they don't share identical political beliefs is disgraceful and not worthy of the title you hold.
Thank you for your attention,

Darcy Olsen
President, Goldwater Institute

Clint Bolick
Vice President for Litigation, Goldwater Institute

Nick Dranias
Director for Policy Development, Goldwater Institute
Remember a day when flipping the bird would not get you arrested?
When I was growing up, people were told by "experts" that those who were concerned about violent video games and TV programming were alarmists. Today a student drawing a gun or even mentioning God is considered a threat to society and punished. Today anyone who reveres the US Constitution, American sovereignty or wants transparency regarding the Federal Reserve is deemed more dangerous than Al-Qaeda, who are Government is funding! Who in the media is questioning our spiraling increase in national and personal debt and plummeting full-time job prospects?

Sincerely,
Joseph Dupont
Towanda, Pennyslvania