AUGUST 14, 2013
Arizona community activist receives Lifetime Achievement Award
100 Club of Arizona recognizes Founding Father Bill Shover at 7th Annual Scholarship Ball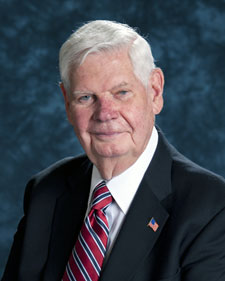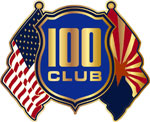 PHOENIX – 100 Club of Arizona Founding Father Bill Shover will be presented with the Jason Schechterle Lifetime Achievement Award for his dedication to the Phoenix community and Arizona's public safety at the 100 Club's 7th Annual Jason Schechterle Scholarship Ball on September 28, 2013. The Lifetime Achievement Award recognizes an outstanding person who has made exemplary contributions to their local community as well as the public safety community in Arizona.

Bill worked with several Phoenix businessmen (including Lee Ackerman, Eddie Basha, Troy Browning, Frank Haze Burch, Ira Lavin, Frank Middleton, Ken Patton, Frank Peck, George Souvall, and Morris Tanner) in the mid-60s to bring the "100 Club concept" from Detroit, MI to Arizona. For more than 45 years, the 100 Club of Arizona has been dedicated to standing behind the men and women who stand behind the badge. The creation of this public safety nonprofit is just one on a long list of accomplishments that Bill has reached in his lifetime.
Although he makes it known that no credit is necessary, the Phoenician (since 1962) has made tremendous efforts in the ways of Arizona journalism, sports, and of course community activism. His goal has always been to make the Valley a better place to live, work and raise families.

Shover's infamous favorite saying to live by is: "There is no limit to good a man can do if the he doesn't care who gets the credit." Known as the man to call when you needed to get something done, Bill helped establish the Phoenix Forty in the 1960s to fight crime, fraud and corruption which spawned the Valley Leadership program. He was also part of the groups that started the Fiesta Bowl in 1971, chaired the Bicentennial Commission in 1976, coordinated the historic visit of Pope John Paul II to Arizona in 1987 and brought Super Bowl XXX to Phoenix in 1988. After 40 years at The Arizona Republic, Bill retired in 1998 and continues to support many cultural and youth organizations.

The 100 Club is proud to honor Bill with the 2013 Jason Schechterle Lifetime Achievement Award for his dedication to public safety, the citizens of Phoenix and his years of support and service to the 100 Club.

The 100 Club of Arizona hosts the Annual Jason Schechterle Scholarship Ball each year to recognize the newest scholarship recipients, the Outstanding Firefighter, Outstanding Public Safety Officer and Lifetime Achievement Award recipient. The 7th Annual Ball will take place at the Arizona Grand Resort on Saturday, September 28, beginning at 5:30 p.m. with a social hour. Tickets are $125, or a table of ten is $1,250. Sponsorships are available.

Send congratulations to Bill by purchasing a Tribute Ad in the Scholarship Ball Book. For more information on the Annual Ball, please visit www.100club.org or call the 100 Club office at
602-485-0100.