BY LINDA BENTLEY | AUGUST 7, 2013
Wilcox's suit against Maricopa County Attorney dismissed, for now
'The fact that someone has advised you that the appeal is frivolous is irrelevant to this conflict analysis'
PHOENIX – Last Thursday Maricopa County Superior Court Judge Dean M. Fink dismissed a complaint filed by Maricopa County Supervisor Mary Rose Wilcox against Maricopa County Attorney Bill Montgomery and Maricopa County.

Fink took the matter under advisement following oral arguments on July 18 and issued his ruling on Aug. 1 agreeing with the arguments presented in the defendants' motion to dismiss.
Fink stated Wilcox indicated she was seeking neither a writ of mandamus nor injunctive relief and the declaratory judgment she seeks would have no binding effect.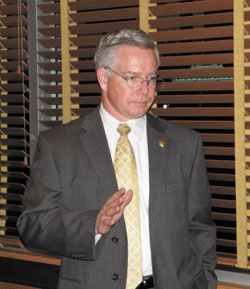 He went on to say the advisory opinion she was seeking is precisely the type Arizona courts do not provide.
In a footnote, quoting from Citibank (Ariz.) v. Miller & Schroeder Fin., Inc., Fink wrote, "Courts should not render 'advisory opinions anticipative of troubles which do not exist; may never exist; and the precise form of which, should they ever arise, we cannot predict.'"
Wilcox sued on June 12, 2013 after Montgomery issued his June 6 Opinion No. 2013-002 explaining to Wilcox why she has a conflict of interest in the Melendres v. Arpaio lawsuit against Sheriff Joe Arpaio and Maricopa County.
Montgomery advised Wilcox she has a substantial interest in the final outcome of the Melendres lawsuit against Arpaio so long as her lawsuit against the sheriff and others has not reached final resolution.
Montgomery stated, "This is a conflict of interest under Arizona law. It precludes you from participating in, or voting with respect to, the Melendres lawsuit."
After providing an explanation of the law that led to his conclusion, Montgomery explained how her lawsuit against Arpaio alleges facts pertaining to her criticism and opposition to the immigration sweeps conducted by the sheriff.
In her complaint Wilcox alleges she has spoken out on a number of occasions against the sweeps and claimed Arpaio and MCSO were racially profiling and discriminating against minorities, specifically those who "looked Hispanic."
Montgomery stated, "Your complaint accuses Sheriff Arpaio of (1) violating your First Amendment rights by retaliating against you for your position on the immigration sweeps; (2) abusing his power by investigating you and your husband for criminal violations; and (3) abusing the legal process by assisting the other named defendants in filing the federal RICO lawsuit against you. In addition to your claim that you and your husband's rights were violated, you accuse Sheriff Arpaio of having a history of abusing his power. As a result of these allegations, you have asked the court to award you substantial general and punitive damages."
The Melendres lawsuit stems from a traffic stop in Cave Creek where Melendres was the passenger in vehicle after being picked up as day laborer. He was found to be a citizen of Mexico and was detained and subsequently released by ICE when it was determined he was in the country legally.
However, Melendres had only a visitor's visa, not one that allowed him to work in this country.
On May 24, 2013, the court issued a ruling in the Melendres civil rights complaint supporting the allegations of unauthorized enforcement of federal immigration laws against Hispanic persons in Maricopa County.
Since that ruling, Montgomery said Wilcox made statements to the press agreeing with the ruling of the court, thereby reasserting her claims against the sheriff's office.
Because the validity of the county's alleged settlement with Wilcox is being challenged in the Ninth Circuit Court of appeals, and the trial court's judgment has been stayed pending appeal, Montgomery said there is no resolution of her lawsuit against Maricopa County and Arpaio.
Montgomery told Wilcox, "The fact that someone has advised you that the appeal is frivolous is irrelevant to this conflict analysis. The relief requested on appeal is that the settlement be vacated and your lawsuit be sent back to the trial court where litigation would continue."
He said because the case could be remanded, Wilcox has a pecuniary interest in the final outcome of the Melendres lawsuit against Arpaio.
Montgomery advised because of this conflict in interest, Wilcox should "refrain from taking part in any further discussions or voting on any issues related to the Melendres lawsuit and/or any possible appeal of the decision issued on May 24, 2013."
Meanwhile Wilcox requested leave to amend her complaint in superior court and stated during oral arguments she would likely assert a mandamus or injunctive claim.
Although Fink stated he was not confident either claim could be properly stated against the county attorney or county, he agreed, "in the interest of resolving the matter on the merits rather than in the abstract" to give Wilcox until Aug. 15 to file a motion for leave to amend her complaint.
If Wilcox fails to file a motion by that date, Fink ordered the defendants to lodge an order for the court's signature dismissing the matter consistent with his ruling.