My View
BY DON SORCHYCH | AUGUST 7, 2013

Transparency again
The lack of transparency, which was a promised fix by the slate, is in shambles. The problem is there was no lack of transparency under Town Manager Usama Abujbarah's tutelage and now there is. Here are recent examples:

Mr. Sorchych,
Thank you for the call and the note. As we discussed by phone, since you disclosed you are a party to the litigation, it would be inappropriate for me to discuss these matters with you since I understand the town and all parties are represented by counsel. Per our conversation, I would suggest that your attorney reach out to the town's attorney, Jeff Murray, to follow-up on any inquiries you may have regarding this topic. Thanks!

Rodney (Glassman)

The problem is I am my own attorney in the lawsuit brought by Freeman for a temporary restraining order (TRO). Therefore I should have been in the meetings involving Freeman, his attorney, the town and Cahava Springs' attorneys, Mayor Vincent Francia, the ever present Vice Mayor Adam Trenk, Reg Monachino, Bambi Mueller, trails coordinator and Glassman.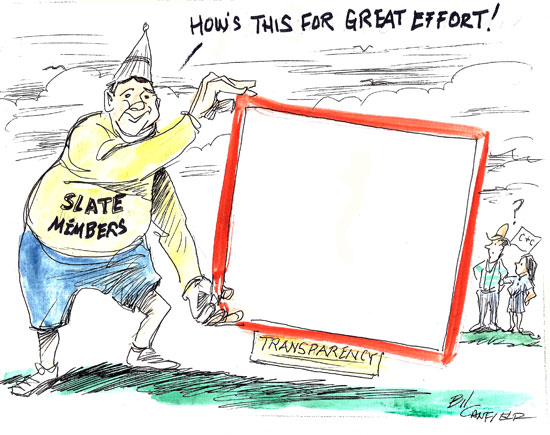 The TRO filed by Freeman is explained in last week's editorial which is on the Sonoran News Online page in this issue.

I called Attorney Jeff Murray who represents Cave Creek's insurance. Of course, he has not returned my call.

Then this, in response to calls to Planning Director Ian Cordwell and Bambi Mueller:
From: Ian Cordwell
Sent: Wed Jul 31 17:21:22 MST 2013
To: Don Sorchych
Cc: Linda Bentley, J Murray, Carrie Dyrek, V Francia, A Trenk, Reg Monachino, M Pontrelli, Gary Birnbaum, Rodney Glassman
Subject: Trail extension at Morning Star

Hi Don,
We received your messages regarding the potential use of the trail extension at Morning Star. As per the email you received from the Interim Town Manager and, given your position as a party to the litigation, it would be inappropriate for staff to discuss any elements of this case with you. You may of course have your attorney contact Jeff Murray, the Town's attorney in this matter to answer any questions you may have.
Thank you,
Ian Cordwell

So it is "inappropriate" to discuss the TRO with me even though I am a named defendant? And this is representative of their transparency claims? We have already heard Glassman has directed employees that they are not to speak to the press or council. How come Arizona Republic's Phil Haldiman gets so much coverage from the town? We have filed for emails or correspondence dealing with town matters and have received nothing. Jordan Rose has refused to forward emails written by her employee, Adam Trenk, claiming it would be unethical to do so.

We complained to the Attorney General's office and were referred to the state ombudsman. Lots of help that is, but we will try it.

This TRO puts claimed equestrian Trenk in a bind. If he really is an equestrian, as opposed to a drug store cowboy, how can he settle on Freeman's terms, which are to not build the trail near our easements and also not to approve a pending subdivision plat which would convert our existing easements to a public road? Let's see how he squirms out of this one.

Horsemen and -women and all equestrian supporters in the community, put on your 10 gallon hats and invade Cave Creek council meetings and demand the horse trail completion.

Here is another email:

Hi, Don.
Was wondering if you wanted to respond to Gilbert Lopez's allegations of defamation.
Phil (Haldiman) (Arizona Republic)

I seldom respond to Haldiman since he is a Trenk stooge.

We expect the same results we got in our last two lawsuits. In the lawsuit with Congressman Gary Condit, we not only were found to not libel him we were awarded attorney fees of about $40,000. The Desert Advocate sued us for defamation and we won the suit and attorney's fees to be paid by their lawyer and the Seemeyers in the amount of approximately $35,000 plus interest.

We print the truth and believe the Lopez suit is being sponsored by slate supporters. Note he is using Freeman's attorney. We will win this suit and perhaps attorney's fees and sanctions as well.

Over the years I have kept the public informed about the various lawsuits filed against me by Freeman.

He first filed demanding that I pay for road maintenance even though our easement agreements have no mention of it. He even tried to get then house legislator Nancy Barto to pass a bill forcing maintenance. Fortunately the bill was killed. We won in mediation and in superior court. Freeman appealed and the appeals panel of judges legislated from the bench even though there was no law supporting it. It was remanded to superior court and the judge gave an award to Freeman.

Subsequently, Freeman sold the debt to FDS Financial Services in Phoenix. We have asked repeatedly for the exact amount expected, but instead they asked for a debtor's exam. This week we sent the amount we calculated and agreed to by Jack Wilenchik, son of Dennis. This was all about forcing a debtor's exam. FDS's attorney is Dennis Wilenchik, who was once the head of the town's planning commission and tried to buy the Foothills Sentinel when it was going out of business. It has been alleged he told them he wanted to buy the Sentinel to put Sonoran News out of business but owner Western Newspapers demurred.

Others have also asked for public records with no results. Any of us who know Town Clerk Carrie Dyrek knows she unfailingly follows the law, but if people deny records exist, she can do nothing. See Steve LaMar's Letter to the Editor and his public records request on the facing page.

One example is braggadocio from slate members about their efforts but there is no record to prove they did anything. We are investigating the lack of public records response, especially since they continuously claim transparency.