AUGUST 7, 2013
Meet Five Football Falcon Seniors...
Matt Collier, Corey Harper, Corey Mione, Steven Satran, Brad Souva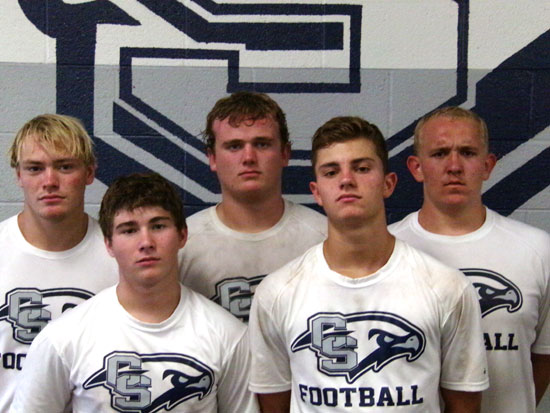 Front row (l–r): Corey Mione, Corey Harper. Back row (l–r): Matt Collier, Brad Souva, Steven Satran

Six, maybe seven Julys ago, an experienced Falcons assistant coach (who shall be nameless) took me to school for my favorable comments on several up-and-coming Falcon aspirants. "Pete," he observed, more than a little sarcastically, "they all look good in T-shirts and shorts." On Monday, August 5, the Falcon candidates exchanged their T-shirts and shorts for full pads and helmets and moved from the air conditioned weight room to the triple digits of the practice field. For the next two weeks, it will be blocking-and-tackling "Big-Boy" football. On Wednesday, August 21, 6 p.m., they'll get their first taste of hitting somebody else when they travel to Maryvale High School for this year's pre-season controlled scrimmage. Counting from the 21st, it will be T-minus nine days before the regular season opens at home against Raymond Kellis (Peoria) on August 30.

Before last season started, this sports reporter pleads "Guilty!" to having drunk the Kool – Aid about making the State Playoffs; but this fall should turn out differently for several reasons. Start with the Falcons' new two-year block schedule. Opening at home vs. Raymond Kellis, followed by a trek to Willow Canyon, should be light years easier than facing Division 1 Boulder Creek and Pinnacle back-to-back. A fair chance, if you will, for the Falcons to get their "sea legs" under them before hosting always-tough Apollo on Thursday evening, Sept. 11. The 30 Falcon seniors haven't forgotten that the Hawks whacked the 'Birds, 51-20 in the 1st Round of the 2010 State Playoffs, including a last-minute field goal by their female placekicker! Second, this is Greg Davis's third season as Falcons' head coach, and he has importantly strengthened his coaching staff by the addition of Defensive Coordinator Darin Robidoux. Third, I do believe that having a nucleus of 30 seniors adds an incentive to win, and should support Coach Davis's intended shift to energy-saving two-platoon football.

But every team, including Cactus Shadows, kicks off at a perfect 0-0. The Maryvale scrimmage (August 21), Kellis (August 30) and Willow Canyon (September 6): Show me, Falcons – then I'll toast you with a Miller Genuine Draft.
–Pete Mohr
Matthew Collier – Linebacker – 5'11", 185 lbs.
Coach Davis cites Matt Collier's quickness as one of his strengths at linebacker. "He's a hard hitter and a willing learner," Coach Davis adds. A 2012 letterman, Matt vows "to play hard until the last whistle blows." Born October 24, 1995 in Phoenix, Matt is the son of Creekers Jim and Kim Collier. Most encouraged by his dad, Jim, Matt hopes to play at NAU where he plans to major in geology. Matt, before that "last whistle blows," here's wishing you many minutes of quality playing time.
Corey Harper – Cornerback – 5'11" – 160 lbs.
Corey Harper is hoping that his three years' previous experience as a receiver will transfer into "five interceptions or more" at cornerback, his new position at which coach Davis expects Corey's "work ethic and willingness to learn" will enable him to become a contributing member of the Falcon Secondary. Being a Football Falcon, for Corey, carries a "responsibility to the school and the community." That attitude motivates Corey "to lead by example" (Coach Davis). Born January 23, 1996 in Phoenix, Corey is the son of Jerry and Lynn Harper. The family lives in north Scottsdale. Also a track Falcon, Corey is headed to NAU where he hopes to play football and major in Engineering. "I want to be the best I can be," he states on his profile questionnaire. That sounds more than good enough.
Corey Mione – Running Back/Fullback – 5'6" – 165 lbs.
Being a Football Falcon means a lot to Corey Mione (correctly pronounced "my-own-ee"). On his profile questionnaire, he states, "Football is life. It's where I can be me and express myself." Coach Davis hopes that a big part of that expression will come as Corey "competes to become a big part of our backfield." Born January 2, 1996 in West Palm Beach, Florida, Corey is the son of Creekers Ken and D.J. Mione. Ken coached Corey throughout his Youth Football career in California. Corey's "bulldog mentality" (Coach Davis) should help him /achieve his personal goals for this season: (i) "score at least five TDs," (ii) "get a couple of knockout blocks" and (iii) "have a winning season." A 100m sprinter for CSHS Track, Corey plans to attend PVCC, majoring in fire science. Corey, here's hoping that you'll hit all three of your targets.
Steven Satran – Offensive Guard 6'1" – 240 lbs.
Steven Satran (correctly pronounced "sat-ran") writes that being a Football Falcon "means sharing something in common with my friends that is much stronger than simple friendship." His declaration helps explain Coach Davis's assessment of Steven as "hard working … a team player … and willing to learn." Steven has strived in this off-season to become "a better, faster, 'O' lineman." Born October 30, 1995 in Glendale, he is the son of Creekers Mark and Carol Satran. Steven first played organized football as a CSHS freshman. A letterman as a junior, Steven plans to attend NAU his major presently undecided. Assuming that Steven will probably earn his second Varsity letter, he will credit most his parents, who "have always supported me 100 percent in my decision to play football." Steven, here's wishing you a senior season that will make your parents and you triple-proud.
Brad Souva – Offensive Right Tackle – 6'3" – 275 lbs.
That I am profiling "The Last of the Souvas" (correctly pronounced "soo-vay") makes this sports reporter feel a lot older than his 76 years! Born a native Arizonan on October 6, 1995, Brad is the son of my friends, Creekers Bob and Maggie Souva. It would be impossible for me to nominate "The Biggest Falcon Fans" among Cactus Shadows parents; but this I can assure you: Bob and Maggie Souva would be among my finalists. Brad, a quit-captain of the 2012 Falcons, proudly follows older brothers Tyler (of the 2006 State Cahmpions) and super-competitive Ben '12,, whose career was dogged by arm and shoulder injuries. Brad may the "The Last of the Souvas"; but carrying 275 lbs. on his 6'3" frame, he is hardly the least! He is a force on both sides of the ball, preferable at the critical position of offensive right tackle, which explains his personal goal for 2013: "Give up zero sacks." Brad writes, "I want to strap a helmet on a legally knock kids out!" This season will be his last before heading south to U of A. But before he leaves CSHS, watch out for big, bad Brad-O.