BY LINDA BENTLEY | JULY 31, 2013
Foothills Academy gets nod from planning commission, neighbors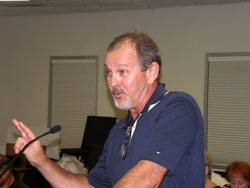 CAVE CREEK – During the July 25 planning commission meeting, Ted Ferris, who said he was there on behalf of applicant Don Senneville, said Foothills Academy has outgrown the leased space for its elementary school at Tutor Time at the corner of Lone Mountain and Cave Creek roads.
The application is for special use permit (SUP) to build a K-6 elementary school on the north side of Carefree Highway between 51st and 52nd streets.
Ferris said his daughter graduated from Foothills Academy in 2005 and it was the 20th anniversary of the charter school, which started out as a private school on Basin Road in Cave Creek.
He said the thought of bringing the school back to Cave Creek is exciting.
According to Ferris, Foothills Academy's mission is college preparatory and the plan is to design and build to fit Cave Creek.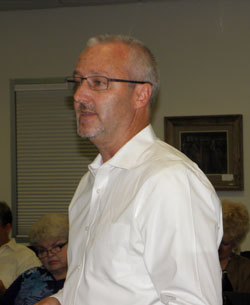 Phil Weddle of Weddle Gilmore, the architectural firm that designed the straw bale building that houses Foothills Academy on Ashler Hills Drive and Scottsdale Road in Scottsdale, also spoke.
Weddle said the proposed 14,000 square foot building was much closer to residential scale than the commercial in the area.
The site would also include an outdoor activity area but, according to Weddle, there would be no sports lighting, sport activities or outdoor uses that would be intrusive on the neighbors.
Weddle said it was important to maintain the natural vegetation and washes and the parking would integrate with the area and would have a drop off loop.
He said they would try to tie the building in to the character of structures in the area, indicating there were barns and equestrian facilities.
As far as traffic is concerned, Weddle said there would be a median break at 52nd Street and the engineering firm they hired to analyze various intersections found the pre and post traffic to be virtually the same.
Weddle said the impact the project would have on traffic is minimal.
In describing the timeline for various aspects of the project, Weddle said they hope to have it completed in time to start classes in fall 2015.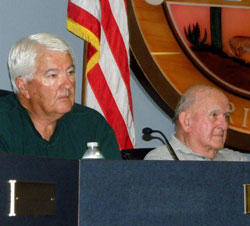 Commissioner Ted Baxley questioned what setbacks applied.
Planning Director Ian Cordwell said the underlying residential zoning would dictate the setbacks.
Chairman Ted Bryda questioned the proposed 25-foot height and asked if it was going to be two stories.
Weddle said it would not and they were trying to keep it low profile.
Bryda asked how many classrooms and students it would have.
Weddle said it would have eight classrooms a library and a multi-purpose room with enrollment expected to be 100-150 students.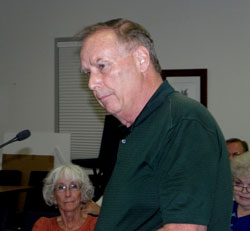 Commissioner Rae Iverson asked if staff could restrict the lighting to no more than 10-15 feet in height.
Cordwell said the town could make recommendations but couldn't require.
Weddle said they were planning on 10-foot high lighting.
Baxley asked for a history of the school.
Ferris said it is an A-rated school that began as an elementary school on Basin Road. It then built the school on Ashler Hills Drive and Scottsdale Road and then leased space at Tutor Time for its K-6 elementary school, pointing out the school was precluded from having kindergarten at the Ashler Hills site.
He said the purchase is contingent upon obtaining the SUP.
During public comment, Wes Cooper, an area resident, said he supported the project and urged the commission to support it as well.
Carefree resident Jim Peirce said when the Episcopal Church in Carefree wanted a school there was a lot of opposition.
Peirce said Cave Creek Unified School District (CCUSD93) was a bureaucratic operation and went on about the Goldwater Institute's lawsuit against the district before Bryda interrupted and asked him to get to the point as it pertained to the case before them.
Peirce said the project would have an impact on CCUSD93 and safety.
He said, "Before you approve make sure the safety concerns are addressed."
Ron Iverson told the commission a quality school like Foothills Academy is an asset to the town.
He said, "Some people say schools don't produce revenue. Not everything produces revenue."
Iverson said it was a win-win situation for Cava Creek and encouraged the commission to "unanimously" recommend approval.
Tina Cole said she and her neighbors live south of Carefree Highway on Yahoo Trail and stated they had not received any notification. They were not opposed to the project but just wanted to receive notification.
Baxley moved to recommend approval for the SUP and said, "I don't know what to say besides hallelujah."
He said he was glad the school wanted to "come home" and stated people who live in Cave Creek should be able to get their services in Cave Creek.
Iverson, who seconded the motion, agreed with Baxley and said, "It's time we put our time and money into taking care of our children.
Commissioner Peter Omundson had nothing to add.
Bryda stated, "I look at this as a real asset to the community."
With Vice Chairman John Ford and Commissioner Ray Fontaine absent, the commission voted 4-0 to recommend approval.
The second case, the site plan for the development of an 8,500 square foot retail space on the Walmart "out lot," also received a unanimous recommendation for approval.
Cordwell said the site plan meets all the zoning requirements.
Iverson asked if they could keep the light standards to 10 feet as was done at Walmart.
Cordwell said, "We can ask but can't require it since the ordinance has been changed."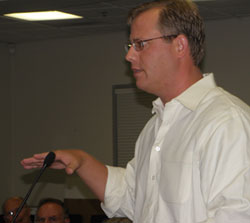 Peter Nelson, representing the applicant Cave Creek 97 Investments, said they purchased the parcel from Walmart and do not have a user yet but were in discussions.
Nelson said as soon as they do have someone he would be happy to disclose the name.
Iverson questioned the 12-foot monument sign.
Nelson said they just put in what the ordinance allows but didn't know what they would be doing.
Cordwell said Walmart sold the property with a number of requirements.
Associate Planner Luke Kautzman stated Walmart had already addressed traffic with the out lot having a drive through use.
With no public comment, Iverson, who moved to recommend approval, said it appeared, in working with staff, the applicant had "covered the turf."
Cordwell said they came up with a site plan to include the "worst case scenario."
"Welcome to Cave Creek," said Baxley, who seconded the motion.
Omundson said, "We expected this. It follows all the rules."
The last item on the agenda was to seek guidance for amending the ordinance pertaining to notification of surrounding property owners when zoning cases come up.
Cordwell stated the town currently exceeds the requirements for notification.
Iverson stated, "Obviously 300 feet is not adequate."
There was some discussion that perhaps the notification might vary depending on the type of application.
According to Cordwell, for large acre lots the notification is typically one quarter mile.
Iverson said during the last election transparency was a large issue. She said, "If we want citizens to be active in town government, we need to expand notification," adding, "I don't know how you're going to write that."
Baxley said signs were not readable although a big issue.
Bryda stated signs also needed to be taken down when the case is over.
He said notification should be maybe 2,000 or 3,000 feet and the signage should be bigger so it could be read.
Iverson said she was frustrated by the website and having to go through five or more layers to get to what she's looking for.
Baxley echoed that concern and said one should be able to click a button on the home page to access an agenda.
During public comment, Everett Bell said we are in a digital age and can certainly put more information on the website than on a sign and said there was Facebook, LinkedIn and e-mail as well.
Cooper said he agreed with the idea of expanding the notification to 2,000 or 3,000 feet.
The agenda item was for staff guidance so they could bring back a revised ordinance for review.
Cordwell said there would be no meeting in August and the next meeting will be on the third Thursday in September to review some ordinance changes and a Special Use Permit for the museum.