JULY 31, 2013
Meet this week's Falcon Football seniors …
Nathan Brockman, Joe Kuhlmann, "Mikey" Leonard
Go here to find a road map for the Football Falcons from that issue until the August 30 opening game (at home vs. Raymond Kellis). So what will appear in this newspaper for the four issues in August? Aug. 7-8, five senior profiles; Aug. 14-15, five senior profiles; Aug. 21-22, five senior profiles; and Aug. 28-29, a complete Varsity roster for the opening game, accompanied by a photo of Football and Cheer captains, plus an Opponent's Preview (Kellis).

For this issue, it took two telephone conversations to jump-start my dinosaur-like electric typewriter! (Yes, Office Max still sells them). The first call, unexpected, came in the late afternoon from Louise Stephens, Mrs. "P.J." Mom of Football Falcon Alumni Trace '07, Anthony '09, Austin '11 and Andrew '13. I know and admire Louise as a lady of great faith, indomitable will and boundless courage in the face of what others might see as never-ending adversity. Not Louise! She just "keeps on keepin' on!" She uplifts me to the hope that on some down-the-road New Year's Eve, Louise and I will again collaborate on the "good luck" Southern concoction of black-eyed peas, onions and sausage! What good times those were – never to be forgotten.
The second call, equally affirming, I initiated, to my young friend, "Mikey" Leonard, younger son of Creekers "Big John" and Kristine Leonard. John, the organizer of rousing bus charters to Falcon away games; and Kristine, who "hydrated" me with her signature watermelon margaritas! Or were they strawberry? Who-the-heck cares?! And their older son, "Johnny," who never saw a pass he couldn't catch – on his way to setting the Cactus Shadows record for career receiving yards. What wonderful friends, all the Leonards. I found "Mikey" to be his usual irrepressible self, overjoyed at his senior-year return to the Falcons after wisely sitting out his junior season on Concussion Watch.

These two conversations woke me up to the embarrassing reality that I am at least two years late in saying thanks to all who've helped make possible my 13 years' enjoyment as Sonoran News sports reporter. First, to Don Sorchych, who hired me 'way back in August 2001. Second, to his talented wife and co-publisher, Shari Jo Sorchych, who has patiently and professionally educated me to the nuances of journalism. And to my valued colleagues, Rachel Karls-Gomes (Mrs. David) and Gena Corcoran (Mrs. Jason), who have untiring transformed my articles and photos into readable copy. Their good humor has kept me going for more than a few years.
Next, of course, to all at CSHS – Administration, coaches, student athletes and parents for their more-than-generous support, friendship and hospitality. Without Cactus Shadows' athletic family, I would have been, for sure, one lonely man! What a trunkload of sports memories you've given me.

Being a frustrated sports broadcaster, I'm closing this introduction by quoting my favorite sign-off, borrowed from (the late) Jack Buck of KMOX-Radio (St. Louis). Whether his baseball Cardinals won or lost, he'd leave the air with, "Thanks for your time, this time … and until next time … so long, ev'rybody!"

-Pete Mohr

#50 Nathan Brockman Linebacker – 5'11" – 225 lbs.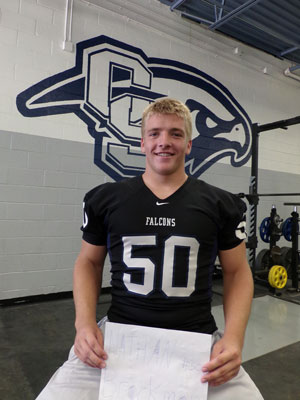 As a multi-talented athlete, Nathan Brockman should get serious looks from recruiters. Not only will he bring "strength and speed" (Coach Davis) to his linebacking post after lettering in 2011 and 2012, but come spring, he will put the shot, throw the discus and run the 100m and 200m for CSHS Track. I would really like to see a 225 lb. young man sprint! Nathan is out "to lead the team on defense," which is exactly what Coach Davis is expecting him to do. So in this off-season, Nathan has been working hard "to become faster and more agile." Born October 1, 1995 in Scottsdale, he is the son of Chuck and Stacey Brockman. The family lives in north Scottsdale. Following graduation, Nathan is likely to follow wherever the football scholarship trail may lead him, majoring in criminal justice. Until that time, he "wears the Falcon name with pride," and tries to be a "role model" both on the field and in school. Coach Davis's assessment: Nathan is fulfilling both roles more than well.
#13 Joe Kuhlmann – Running Back – 5'11" – 205 lbs.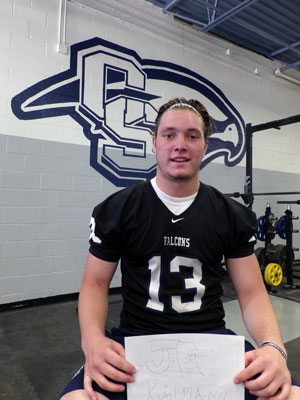 The last time I can remember seeing Joe Kuhlmann, then a freshman, was the night of Homecoming 2010. Late in the 4th quarter, he was lying on Courtney Runner's gurney, with his Creeker parents, Dennis and Jennifer Kuhlmann, worriedly at his side. How did Joe end up there? Recognized (as he had earned) by a coveted call-up to Varsity, Saguaro's monster defense had wrecked Joe's right knee with a highlight film (but clean) hit. His injury was the final blow (literally) in a disastrous (and weather bizarre) game for (then) Head Coach Chad DeGrenier's Falcons. Injured again (his left knee) in 2011 and in 2012 not getting many touches in the Falcons' pass-oriented attack, you might think Joe had all but disappeared. But now he's preparing for his senior season, telling me he's "100 percent healed" and "feeling better than ever." He's gotten faster, even at his new playing weight of 205. "We're going to be a "ground and pound" team on offense this season" (Coach Davis). That's good news for Joe, who realistically believes he can "lead the State in rushing yards." A Native Phoenician born March 13, 1996, Joe hopes he'll be playing for ASU next year. He plans to be a business major. In 2010, Joe set the CSHS freshman single-season record for touchdowns. His sophomore and junior seasons, he'd just soon forget. Now he's working hard to get ready for 2013, when he knows a lot will be expected from him. Joe Kuhlmann welcomes that challenge. Joe, here's wishing you a break-out season.
#5 Mike Leonard – Strong Safety – 5'10" – 165 lbs.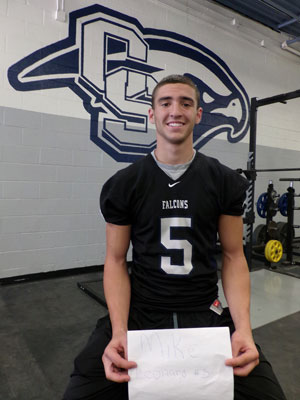 "Mike Who?" Don't know him. How about "Mikey" Leonard? Yes he's b-a-a-c-c-K! – after a scary neck-and-head injury benched him for the 2012 season. His return is the best news I've had all summer. How much does "Mikey" love football? I'll let him answer: "When my doctor cleared me to play again, I was so full of joy that I almost cried!" Yep, that sounds like the full-of-life "Mikey" I've know since he was a skinny freshman. In this, his senior season, his sights are set on (i) "getting a ring" (winning the State Division 2 Championship), (ii) "making a lot of pics" and (iii) "pumping up the 'D' for our offense." With typical enthusiasm, "Mikey" assures me that he's "going to knock some heads" in leading the Falcon secondary to a good year. Fast (the team's second best time in the 40) and a sure tackler, "Mikey" will walk on at NAU or ASU, if he doesn't land a scholarship. Born June 28, 1995 in Elizabeth, New Jersey, "Mikey" is the younger of John and Kristine Leonard's football playing sons. Older brother John '11 holds the Falcon record for career receiving yards. Coach Davis on "Mikey": "He'll bring his high energy and spirit to our defense. It's great to have him back!" Coach, from where I sit, I'd say you've got that right!