JULY 24, 2013
Meet this week's Falcon Football seniors ...
Tanner Buchert, Emeka Esemonu, Jeff Nelson
"Sure could use…a little good news…today!"
Canadian songstress Anne Murray, mid-1980s

And last Sunday, July 21, I received "good news" in two installments. Early in the afternoon (E.D.T.), courtesy of ESPN, I was excited by Phil Mickelson's come-from-behind triumph at The Open Championship (which we colonists call The British Open), the oldest and most prestigious major title in professional golf. To witness his athleticism, the spontaneity of affection between Phil and his family who were greenside at the final hole to share with him in his victory and the graciousness of his remarks in accepting the winner's trophy: all were in stark contrast to televisions excessive coverage of Jodi Arias, the Tsarnaev jihadists, the alleged murderer, Aaron Hernandez and the racial divisiveness of the George Zimmerman trial. Sincere thanks to Phil Mickelson and his family for giving us all a badly-needed breath of fresh air – and a spark of hope that better days lie ahead.

Several hours later, I received an unexpected (but no less appreciated) call from Coach Greg Davis, two days returned from his Falcons' Summer Camp in San Ysidro, California, which he evaluated as "our best camp ever." But the "best" of Coach Davis's "good news" was shared with me in his disclosure of a "seniors only" meeting called some two weeks earlier at their initiative. These 30-odd seniors framed what I'm calling "The Declaration of Commitment" for Falcon Football. In Coach Davis's words, "They are determined that no longer will Cactus Shadows football teams be 'pushovers'; and that no longer will they be okay with losing."
"Senior leadership," guys. Now that's what I'm talkin' about! Seniors Nathan Brockman, Nate Covert, Tanner Buchert, Corey Harper and Brad Souva followed up by volunteering to assist the coaching staff with mentoring the underclassmen campers. Congratulations to you five!

The highlight of Summer Camp occurred last Friday, when the seniors were roused at 5:30 a.m. for an 8.5 mile run/jog/walk from the San Ysidro High School gym to the Pacific Ocean's shore. Shades of Cross Country Head Coach Patty Egan! Hardly what you'd label a "Fun Run;" but as Coach Davis proudly reported, "Every kid made it!" Now, home again at "The Roost," what's ahead for the Falcons?

They're back in the weight room, 7 – 9, four mornings each week, through Friday, August 2. Full pads go on August 5, the first date permitted by A.I.A. rules. To facilitate (i) on-time start of practices, (ii) dinner at home with families and (iii) home-work responsibilities, Varsity and JV will practice together each afternoon, 3 –5. Coach Davis and his staff will keep a watchful eye on temperature/hydration. School starts Thursday, August 8. Where did the summer go?!

On Wednesday, August 21, the Falcons will bus to Maryvale High School (Central Phoenix) for their annual pre-season scrimmage, which will get underway at 6 p.m. Maryvale is a Division 1 school.

Then it will be "Kountdown to Kellis." Cougars come to Falcon Stadium, Friday evening, August 30, for a 7 p.m. kickoff. All right, Falcons, I'm pretty sure you've heard one of my favorite sayings: "Action talks; but (expletive deleted) walks!" The choice is yours.


#31 Tanner Buchert – outside linebacker – 5'8" – 160 lbs.
A first take on Tanner Buchert might indicate he's a little on the small side to play linebacker. Don't be fooled by his size. This letterman from last season is a "player," expected by Coach Davis to be one of the Falcon leaders on defense, possibly even to be one of the defensive co-captains. Tanner, behind his side of the "D" line, is a sweep stopper, exploiting his "athleticism and speed on the edge" (Coach Davis). A native South Dakotan, he was born August 23, 1995, moving with his family to the The Valley in 2000. His Creeker parents are Ryan and Lacey Buchert. As a Falcon, Tanner aspires "to be a great football player," and is aiming to record "a pick in every game." Dream no little dreams, Tanner. Go get 'em, "Tan Man!"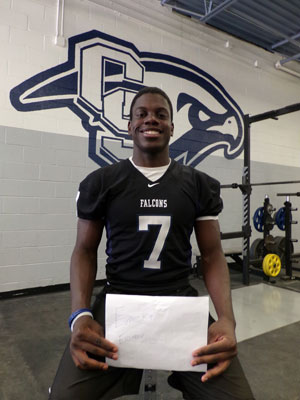 #7 Emeka Esemonu – cornerback – 5'11" – 185 lbs.
What happened to the skinny little kid I saw bustin' his tail as a sophomore?! Guess what? "Meeka's" grown to a beefed-up 185, without any loss of speed or athleticism. Coach Davis calls him "a lock-down corner" and looks for Emeka to be a leader in the Falcon secondary. A native Arizonan, he was born February 19, 1996, the son of Isidore and Darcy Esemonu. The family lives in north Scottsdale. Emeka first played organized football as a Cactus Shadows freshman and hopes to earn a scholarship to either NAU or ASU. He credits his parents and cousin as most influencing his football career. Emeka writes that he "lives and breathes Falcon Football!" Sounds to me pretty much like his older sister Shaunte, CSHS '04, who was a dynamic player for the Basketball Lady Falcons. Isidore and Darcy must be beaming! Good luck, Emeka. I hope you'll get your targeted "six or more interceptions." Coach Davis hopes so too.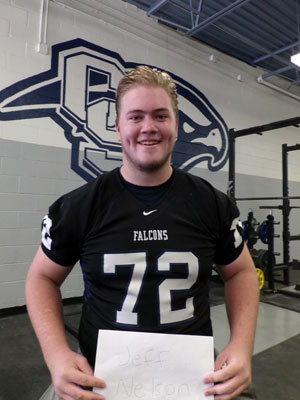 #72 Jeff Nelson – offensive guard – 6'2" – 290 lbs.
Whoa! Jeff Nelson is one big guy! Easy to see why Coach Davis is looking for Jeff to be a "key component" on the Falcons' "O" line. Jeff is a native Californian, born April 2, 1996, the son of north Scottsdalians Jeff and Karen Nelson. Look out, Falcon opponents! Jeff is vowing "to get after it, pancake-after-pancake block!" Coach Davis praises Jeff's "coachability and leadership." Not surprisingly, Jeff's size has caught the attention of several college recruiters. He'd like to play at NAU, where he would major in physical therapy. Jeff writes that he "takes on every play like it's my last." He'd tell you he learned that football desire from his Dad. Hey, Jeff! I'll be watching for you on ESPN! But first, take care of business this season. I have a feeling that you more than will.