BY PETE MOHR | JULY 17, 2013
Meet this week's Falcon Football seniors ...
Brandon Caniga, Kyle Iorgakiev, Conrad Jarvis
With the Falcons away (at Summer Camp in San Ysidro, Calif.) there's not much more to say except the three senior profiles appearing below. Head Coach Greg Davis' critique of Summer Camp and the Falcons' practice schedule from Monday, July 22 until the August 30 first game (at home vs. Raymond Kellis) will appear next issue.
~ Pete Mohr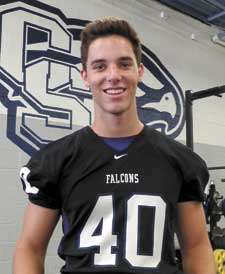 #40 Brandon Caniga – Linebacker – 6'1/2", 180 lbs.
Brandon Caniga is yet another Cave Creek Youth Football (CCYF) alumnus, who has not played football at Cactus Shadows until this, his senior season. He's got the right attitude, considering the Falcons are his "second family." He vows "to play my hardest and never give up." Brandon was born August 15, 1995 in Monsler, Ind., the son of Jim and Deanna Caniga. The Caniga family moved to Arizona in 2000. They are Creekers. Brandon is a Desert Arroyo graduate. After his CSHS commencement next May, he plans to attend ASU, his major presently undecided. With good height and weight for the linebacker position, Coach Davis describes Brandon as "dedicated … a willing learner … and savvy. I expect him to earn a starting linebacker spot." Dad Jim has been his biggest football encourager. Brandon, you've made the tough choice to come out for football. Now make your decision count!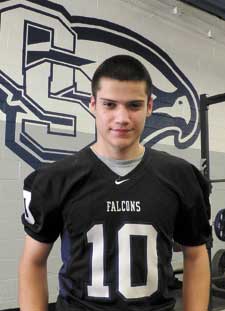 #10 Kyle Iorgakiev – Safety – 5'8", 155 lbs.
Meet this week's second senior "rookie." Kyle Iorgakiev (correctly pronounced "Yorga-kev") who was born February 22, 1996 in Phoenix. Kyle lives in Cave Creek with his guardians, Ron and Liz Lee. Coach Davis sees Kyle as "hard working … reliable … and a team player." Expecting Kyle to keep learning Falcon defensive schemes, Coach Davis looks for him to contribute in a utility player role. Kyle is enjoying the hard work and feeling of "family" that goes with being a Football Falcon. He'll respond by "being the best that I can be." Following graduation, Kyle will likely attend PVCC for two years; then enter U of A's School of Business. From our telephone interview, I can tell that Kyle is a courageous young man. I wish him the best in his "rookie" season – and in life.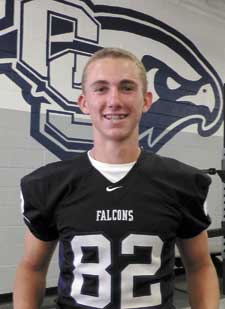 #82 Conrad Jarvis – Wide Receiver – 6'2", 180 lbs.
Falcon Football makes Conrad Jarvis a two-sport varsity athlete. He pitches and plays left field for the Baseball Falcons. On the gridiron, Coach Davis "expects (Conrad) to battle for starts" among Falcon wide receivers. "I want to catch a lot of TDs!," he tells Sonoran News. Obviously, Coach Davis is hoping that he will. Conrad was born February 5, 1997 in Scottsdale. He is the son of Mark Jarvis (Phoenix) and Cynthia Jarvis (Cave Creek). Conrad and a younger brother live with their Mom. For Conrad, being a Football Falcon instills "pride" and challenges him "to want to set good examples." The most opportune setting to do that, young man, will be in an opponent's end zone. Allow this writer to suggest, in particular, Notre Dame and Chaparral! Conrad looks to his teammates for football motivation. After his graduation in May 2014, Conrad aspires to win an appointment to the United States Air Force Academy, where he would major in Aeronautical Engineering. Conrad, best wishes to you and your fellow Falcon pass-catchers for many successful "flights" this season.