Photos by Bob Hughes
BY LINDA BENTLEY | JULY 10, 2013
'We the people elected you for the benefit of the town, not to use a governmental institution to enact a personal vendetta'
CAVE CREEK – Mayor Vincent Francia began Monday night's meeting with a moment of silence for the 19 firefighters killed in the Yarnell Hill Fire over the weekend and encouraged citizens to attend the fireworks on July 3 at Harold's, which will be a fundraiser for fallen firefighters, and July 4 at Frontier Town.

BY LINDA BENTLEY | JULY 10, 2013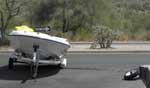 CAVE CREEK – As a family pulled in to the Dairy Queen on Tuesday afternoon, the SeaDoo boat trailer they were towing lost its left wheel, stranding the boat half in the driveway and half in the westbound lane of Cave Creek Road.


BY LINDA BENTLEY | JULY 10, 2013
'These things are painstakingly slow – they take time'
WASHINGTON – Mike Zullo, the lead investigator with Maricopa County Sheriff Joe Arpaio's Cold Case Posse, was in Washington D.C. again on Monday, meeting with several high ranking VIPs who arranged for the conference so Zullo could present the entire criminal case and answer questions regarding Obama forged birth certificate.
BY LINDA BENTLEY | JULY 10, 2013
RANCHO SANTA MARGARITA, Calif. – Dr. Orly Taitz, Esq. submitted a Freedom of Information Act (FOIA) request to the United States Postal Service Office of the Inspector General back in May concerning evidence she provided the agency over a year ago regarding the alleged use of a fabricated USPS stamp by President Barack Obama on his Selective Service System registration.
BY LINDA BENTLEY | JULY 10, 2013
YARNELL, Ariz. – After being evacuated from their homes on June 30, Yarnell residents were allowed to return to their homes on Monday, July 8, some to find their homes completely destroyed, others only needed to clean out their refrigerators after a week with no power.