BY LINDA BENTLEY | JULY 10, 2013
Obama fraud inching its way toward congressional investigation
'These things are painstakingly slow – they take time'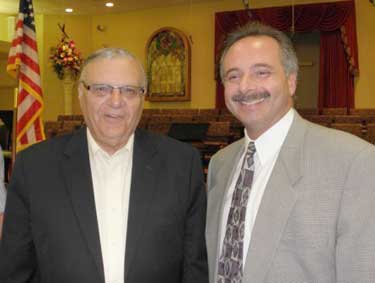 WASHINGTON – Mike Zullo, the lead investigator with Maricopa County Sheriff Joe Arpaio's Cold Case Posse, was in Washington D.C. again on Monday, meeting with several high ranking VIPs who arranged for the conference so Zullo could present the entire criminal case and answer questions regarding Obama's forged birth certificate.

During an exclusive interview, Carl Gallups of PPSIMMONS News reported Zullo's attendance at CPAC 2013 and meeting with members of Congress earlier this year has "opened several very important doors that are leading this case closer and closer to a full blown congressional investigation."

Zullo told Gallups, "Sheriff Arpaio is now pulling out all the stops. We are contacting and meeting with as many people as possible who can make a congressional investigation happen."

According to Zullo, the investigation has been ongoing and the Cold Case Posse continues collecting evidence.

He said, "The further we go with this case the more we are convinced that the evidence we possess is hands-down solid."

However, he cautioned, while they are closer now than they've ever been to a congressional investigation since they started two years ago, "These things are painstakingly slow – they take time."

Zullo called the progress they've made since attending CPAC and meeting with VIPs on Capitol Hill a few months ago "astounding."

The mainstream media that attended press conferences in Phoenix last year where Arpaio and Zullo presented the startling details of Obama's fraudulently created birth certificate and Selective Service System registration had absolutely no interest in the facts presented.

Since that time, a forensic examination by Reed Hayes, a certified document analyst, has provided the Cold Case Posse with an affidavit stating the document is a 100 percent forgery.

Hayes has been used as expert witness by the Perkins Coie law firm, the same law firm Obama used to defend himself in a number of eligibility cases.

He is also a registered Democrat whose business is located in Hawaii.

According to Zullo, Hayes initially agreed to take just a cursory look at the birth certificate that was posted April 27, 2011 on the White House's web site.

However, within the hour he contacted Zullo to say, "There's something wrong with this."

A few weeks later, Hayes presented Zullo with a detailed 40-page report of his findings.

He stated, "[I]t is clear that the Certificate of Live Birth I examined is not a scan of an original paper birth certificate, but a digitally manufactured document created by utilizing material from various sources. In over 20 years of examining documentation of various types, I have never seen a document that is so seriously questionable in so many respects. In my opinion, the birth certificate is entirely fabricated."

And while the evidence of forgery and fraud has become irrefutable, an effective media campaign continues to discredit anyone who tries to work with Zullo on the case and labels anyone who questions the authenticity a conspiracy theorist and "birther."

Hayes' report, because it is now an affidavit belonging to the Cold Case Posse, cannot be retracted.

And, Zullo has copyrighted the report as a precaution against manipulation or misuse.
For example, Freedom's Phoenix posted an article on June 21 by Mike Renzulli, who calls himself the "Oracle of Reason" that concluded by stating, "If the President is to be stopped it will be with the right ideas and not with stupid conspiracies speculating about whether or not he is a U.S. citizen (which he is)."

In referencing Zullo's announcement that the Cold Case Posse possessed irrefutable evidence of forgery and was pursuing a congressional investigation into the fraudulently created document, Renzulli wrote, "If this wasn't so ridiculous it would be laughable."

However, Renzulli doesn't present a scintilla of evidence or documentation to back up his claims or refute the Cold Case Posse's rock solid evidence, which one can only assume he's not taken the time to review.