BY LINDA BENTLEY | JULY 10, 2013
Cave Creek to revisit court options
'We the people elected you for the benefit of the town, not to use a governmental institution to enact a personal vendetta'
CAVE CREEK – Mayor Vincent Francia began Monday night's meeting with a moment of silence for the 19 firefighters killed in the Yarnell Hill Fire over the weekend and encouraged citizens to attend the fireworks on July 3 at Harold's, which were a fundraiser for fallen firefighters, and July 4 at Frontier Town.

During Call to the Public, John Ford thanked the mayor for the moment of silence and said he knew three of the 19 firefighters from the hotshot crew that perished in the fire. He said the hotshot crews are the elite of the fire fighting community and compared them to SEAL Team 6.
Speaking on behalf of Rural/Metro Fire, Ford said there will be extra manpower on hand for the fireworks displays and said they are controlled and watched.

Ford wanted to make sure citizens feel safe while enjoying the fireworks.


He also asked people to donate to the 100 Club, which provides assistance to the families of fallen first responders.

Council voted 5-2 with councilmen Reg Monachino and Thomas McGuire dissenting to table entering into negotiations with Maricopa County Justice Court for court services until the Aug. 19 meeting.

Councilman Ernie Bunch suggested an executive session with the current magistrate in order to gather information as to what the current costs are and why the costs have close to tripled.
Francia asked to place an executive session on the July 15 meeting agenda.

Monachino said the executive session was two weeks away and asked if there was something that could be done in the meantime.

Councilman Mike Durkin said he wanted to hear input from citizens about how they feel about court services being out of town.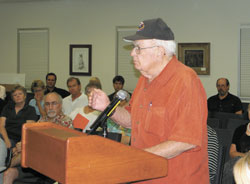 During public comment, former Carefree Councilman Jim Van Allen (r) said a few years ago he was the liaison between the Carefree Municipal Court and council and there was discussion about combining the Carefree and Cave Creek Court to save money.

Although both courts were nearly identical, Van Allen said Carefree leases the space it's in, which costs $53,000 per year while Cave Creek owns its building.

He said Carefree Town Council suggested taking another look at combining the two courts.
According to Van Allen, Carefree has a two-year window to decide what it wants to do – renew its lease or build new space.

Van Allen said, "I think it got shot down over egos and politics," the last time combining the courts was discussed.

He said, "The Phoenix Justice Court is a zoo. It's not a nice place to have a hearing or pay a fine."

According to Van Allen, the majority of people who utilize the courts are from out of town.
Francia asked Town Manager Rodney Glassman to meet with Van Allen.

At first Bunch moved to table the agenda item until July 15.

Trenk seconded the motion but said, "I don't necessarily support this unless there is substantial savings."

McGuire echoed those sentiments.

Councilman Charles Spitzer said he didn't know what to do without information from the public as to whether they wanted this or not.

Bunched changed his motion to table the item until Aug. 19 so council will have the necessary data for each of the alternatives on the table.

Planning Director Ian Cordwell sought direction from council regarding a special use permit (SUP) for the museum to make its use legal rather than a legal nonconforming use in a residential neighborhood.

According to Cave Creek Museum Executive Director Evelyn Johnson, the SUP would grant them eligibility status to apply for federal grants.

During public comment, Wes Cooper said, "I would encourage doing anything we can to support the museum."

Trenk stated the issue has been around as long as he's been in town and said, "We owe them a sense of security."

McGuire said there is no better way to show the town's support of its western heritage than by supporting the museum.

Francia said the agenda item did not require council action and was only to give staff direction.

Town Attorney Marlene Pontrelli told council it was brought to her attention the standard IGA form for the Desert Foothills Library included in their packet doesn't work for Cave Creek because the town doesn't own the library.

Bunch's motion to reschedule the item to the Aug. 19 meeting passed unanimously.

During council discussion of interim Town Manager Rodney Glassman's employment agreement, Pontrelli said there were two areas that required council discussion and referred them to page two, paragraph 7 where council needed to fill in the blank for the length of notice to be given for termination. The other area had to do with number of days of overlap from when the permanent town manager takes office.

During public comment, Scott Dahne mentioned a typo and suggested not more than 30 days notice and 14-30 days overlap.

He also asked for clarification of the section on "scrutinized business operations" in the countries of Sudan or Iran.

Pontrelli said it was a quirky statute that is included in all employment agreements and the legislature wrote it to only include those two countries.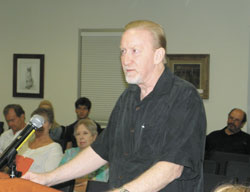 John Hoeppner (r) stated it was 27 years ago when the Cave Creek Incorporation Committee made two promises to voters: protect zoning and not waste money – financial accountability.

He told council, "Each of you made similar promises to the public – yet here we are again wasting money."

Hoeppner said, "Never in the history of Cave Creek have we paid for two town managers at the same time."

Calling it "unprecedented," Hoeppner said it will cost taxpayers more than $160,000 over eight months and stated, "This bothers me."

He said he read the resumes of the applicants for interim town manager and pointed out they selected the only person without town manger experience, yet he's being paid $10,000 per month.

Hoeppner also took umbrage with the six-month process to oversee a third-party audit and said an audit could generally be performed within a couple weeks.

He stated, "Forensic accounting is usually done to indict" and noted there would have been scant opportunity at town hall for any malfeasance to have taken place.

Hoeppner also took issue with waiving the residency requirement.

He said, "We the people elected you for the benefit of the town, not to use a governmental institution to enact a personal vendetta."

While Pontrelli interrupted to say Hoeppner was getting off the agendized subject, Francia allowed Hoeppner to continue.

Hoeppner said removing a town manager should have gone through a professional review process, there should have been zero cost for an orderly transition to a new permanent manager and now the town is faced with litigation costs and damage exposure because of its knee-jerk reaction.

Because Glassman worked for and supported Rep. Raul Grijalva-D, who called for a boycott of Arizona businesses, he suggested council ask Glassman one question before approving his employment agreement.

"I am not an advocate of boycotting any Arizona businesses," said Hoeppner, "especially businesses located in the town of Cave Creek. Using a governmental organization to punish or boycott any business in Cave Creek is wrong. If government is allowed to boycott even one business, anyone can become a target."

He said, "We only have one local newspaper in town. We should support it."

Questioning whether Glassman provided any instructions to anyone or had any conversation with anyone regarding boycotting the only newspaper in Cave Creek – The Sonoran News, Hoeppner concluded by stating, "To use the town as an instrument of punishment is wrong."

To get things started, Francia made a motion to approve with not less than 60 days notice and deleting the second clause.

Durkin said he was concerned there was no definition for transition.

McGuire said he would like to see five business days for transition.

He said, "Mr. Hoeppner's comments are well taken," but pointed out some actions had already been taken."

Spitzer said 60 days was excessive and thought it should be no more than a week.

Monachino said he would support 30 days notice and a two-week transition.

Bunch said 30 days sounded good and clarified two weeks as meaning eight business days since the town is on a four-day week.

Trenk suggested an amendment to 45 days notice as a compromise with eight working days for transition, which Francia accepted as a change and was passed unanimously.

Francia said he wants to do everything he can to make this council and staff successful.

He said he was impressed by what he's seen in Glassman so far.

Noting Glassman has been charged with three specific tasks, he said "I want to give everyone the best chance for success."